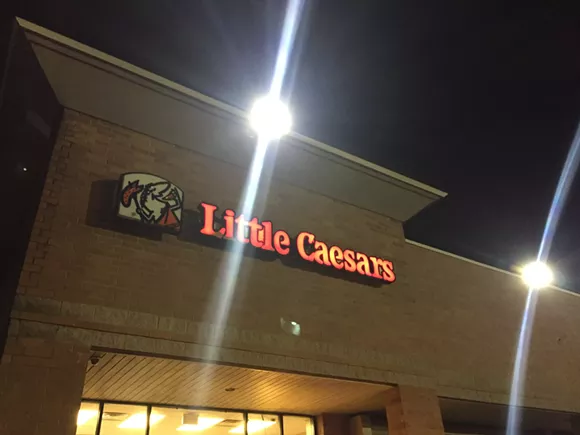 Little Caesars pizza mogul Mike Ilitch died today at age 87, according to a company statement.
The son of Macedonian immigrants, the Detroit-born Ilitch built his empire on the cheap yet utilitarian $5 "Hot-N-Ready" pizza. In addition to the successful pizza chain, Ilitch owned the Detroit Red Wings, the Detroit Tigers, the Fox Theatre, and Olympia Entertainment, among other pursuits. A new hockey arena, Little Caesars Arena, is set to be completed this year. Forbes ranked him as one of the 400 richest Americans, with a net worth of $5.4 billion.
But since the $5 Hot-N-Ready was Ilitch's true crowning achievement, we headed to an east side Little Caesars Friday night to ask customers for their eulogies.
"It's sad. He was Detroit for real," said Q. Jackson, 38, a Detroit resident. "It's sad he didn't get to see his new arena finished."
"I'm shocked. But I didn't really know him like that," said 39-year-old Sandra P. of Detroit. "That's crazy. He did great with Little Caesars though."
"It's sad. He was a good guy," said Detroit resident April B., 46. "He did a lot and he had a lot in the works."
"He pretty much owned a portion of Detroit," said Grosse Pointe 19-year-old Parker Rist. "He left his mark for sure. I'd say he tried to turn around Detroit, and I think its coming back actually."
Not everyone thought favorably of Ilitch's legacy in the city, however.
"He did what he did for the city, downtown mainly. He didn't do nothing for the slums, for the ghettos," says Lucky, 71, a Detroit resident. "You know as well as I know all that money wasn't that clean."
Read our 2014 feature on the new Red Wings arena
here
, and a timeline of Ilitch's business dealings
here
.