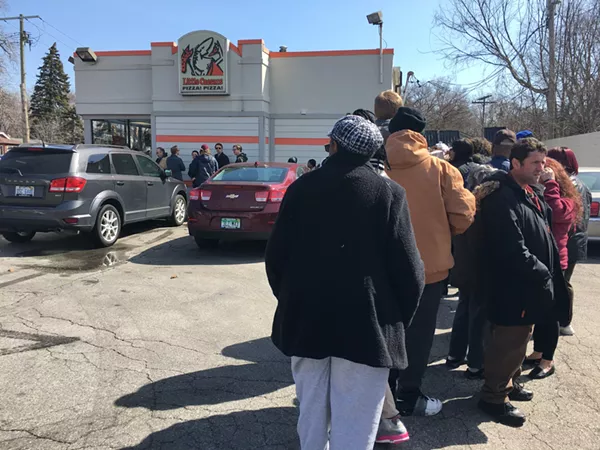 The internet went crazy over Little Caesars' plans to give away its $5 lunch combo for a short time on Monday, and this lunch hour, the footprints followed.
Metro Times
found a line wrapped around the block outside the Little Caesars on Woodward Avenue in Highland Park as dozens of people waited for the free pizza and drink deal to start at 11:30 a.m. The scene was similar in Ferndale, where a line snaked around the parking lot of the Little Caesars location on Hilton Road.
"We waited about a good 45 minutes," a woman coming out of the Highland Park location told
Metro Times
. "It was worth it."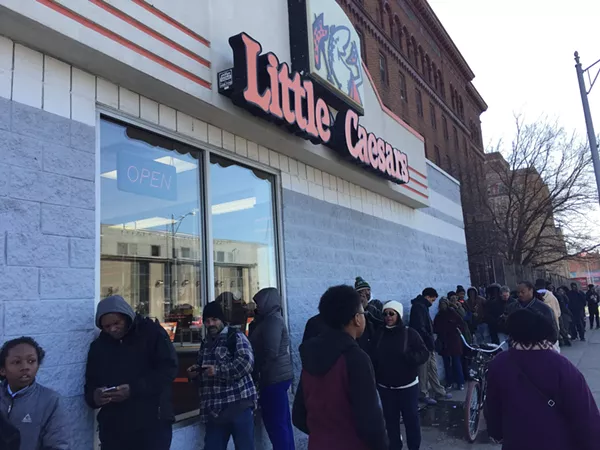 Little Caesars last month
said it would offer
the Hot-N-Ready deep dish lunch combo for free if a No. 16 seed upset a No. 1 seed in the in the NCAA basketball tournament. The promo called "If Crazy Happens" was set into motion two weeks ago, when the University of Maryland-Baltimore County beat top-seeded University of Virginia.
Crain's Detroit Business
reported that a "pizza industry insider" estimated the giveaway would cost the company $4.3 million, but that it would result in about $7 million in free exposure.
On Monday,
Metro Times
found a rep for the pizza chain smiling as she observed the crowd in Highland Park.
"Throughout the area, and throughout the U.S., the lines are long, so I think it's a great turnout," says Little Caesars employee Melissa Woodington. "I think it depends on the location and where it's at — if it's a population where there's a big lunch crowd for example, there might be more people in line."
Lines were long all over metro Detroit, observers confirmed. One man saw a long lone at the West Bloomfield Little C's off Maple Road, and another said the Detroit location at Livernois and Six Mile was "a madhouse."
But we can't help but wonder if the long lines are in fact a sign of a "big lunch crowd" near the pizza chain's locations, or if they say something more about the economic stability of our region. If a 45-minute wait is worth saving $5, are we in trouble, or are we just in love with a gimmick? Perhaps a little bit of both.
Stay on top of Detroit news and views. Sign up for our weekly issue newsletter delivered each Wednesday.