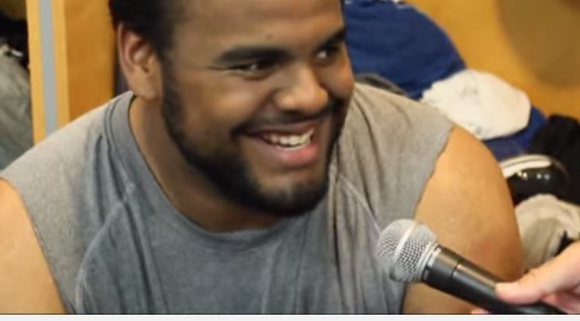 Is Pokemon Go just some big conspiracy? One Detroit Lions player seems to think so.
In a recent interview, Detroit Lions guard Larry Warford explained why he felt like "something's not right" about the popular augmented reality game.
"I'll tell you why I stopped playing it," he told
Freep
Monday. "I was walking down Mill Avenue in Tempe, Ariz., pretty much on (Arizona State's) campus. … I was walking down and literally everyone that was on their cell phone walking down that same street was playing Pokemon Go. I was looking at their screens and it was about 30, 40 people walking down Mill (Avenue).
"It was a bunch of people playing it and I was like, 'I don't like this.' I deleted it because I was like, 'This is some mind-control stuff.' I don't like it."
Warford also said when he was on his way to meet friends at a restaurant, he ran into a Lions teammate who shall not be named, and lo and behold, he was playing it, too.
"I was like, 'This is bad, this is bad,' " Warford said. "They were playing it and I was like, 'Nope!' And I deleted it right there, right when I got to the restaurant. The funny thing is, the people I was eating with, they were playing it, too."
The Lions pre-season kicks off in less than 2 weeks, and it's only a matter of time until we're all blaming Pokemon Go for the team's poor performance.
Stay woke, Larry.