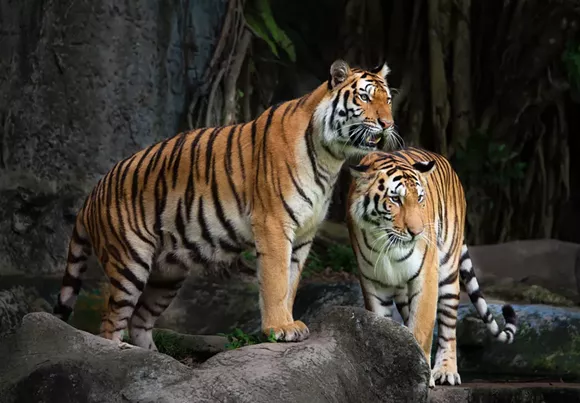 Detroit native
Lily Tomlin
is near and dear to our hearts. The Cass Tech grad attended Wayne State University for Biology but came to fame for her cast of alter egos like Ernestine, Edith Ann, Mrs. Judith Beasley, and so on. Basically, she paved the way for Kristen Wiig to be Kristen Wiig.
Tomlin has also spent much of her life advocating for LGBTQ rights and on New Years Eve 2013, she married her longtime partner Jane Wagner in a private ceremony in Los Angeles.
So why is this critically-acclaimed comedian, award-winning actress, and simply incredibly human being writing letters for the sometimes terrorist group
PETA
?
In a press release from PETA itself, the group states that Tomlin, "sent a letter on behalf of PETA to Summer Wind Farms Sanctuary urging CEO Charles Vanneste to retire all animals at the notorious roadside zoo in Brown City to reputable sanctuaries."
PETA's press release goes on to say, "The letter comes as the facility has been slapped with numerous federal Animal Welfare Act (AWA) citations by the U.S. Department of Agriculture (USDA) for having filthy enclosures, failing to provide animals with clean water, denying veterinary care to three ailing lemurs, and confining a tiger to a cramped cage in a basement. During an inspection in February, the USDA further warned that the 'amount of animal husbandry issues at the facility' indicates 'a lack of adequately trained employees,' which 'can result in facility and animal conditions that result in unnecessary animal suffering.'"
Summer Winds Farms is located in Brown City, MI and has, as PETA notes, been
cited numerous times
for unethical treatment of animals, including but not limited to
keeping a tiger locked in a basement
.
You can read the whole letter
here
.