The
New York Times
published
an article Monday that digs into new research that shows that while the rich live longer, the life expectancy for poor Americans is very much tethered to where those in poverty live.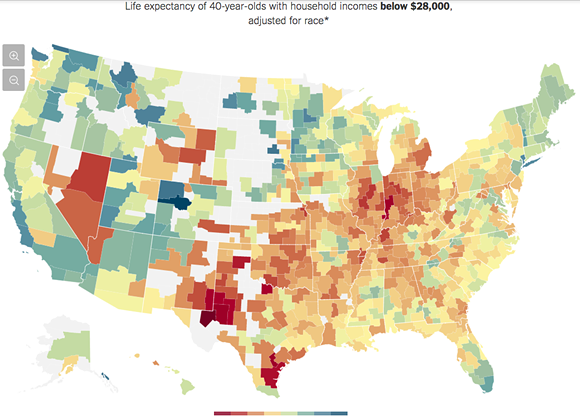 The article, based on new research published this week in the Journal of the American Medical Association, found that Detroit was one of the worst of the 100 largest metro areas in the U.S. for the poor to live in terms of life expectancy. In the Motor City, the life expectancy of 40-year-olds with household incomes below $28,000 is 77.7 years, compared to 81.8 years in New York.
This gap becomes more staggering when focusing just on the life expectancy of poor men. The average age of death for a poor man in Detroit is 74.8 years, which makes it the third-worst large metro area for a poor man to live according to the data (behind it are Gary, Indiana and Indianapolis).
Poor New York men, on the other hand, live to be about 79.5 years (they have the longest lives) — and are followed by a number of California cities such as San Jose (79.5), Santa Barbara (79.4), Santa Rosa (79), Los Angeles (79), San Francisco (78.8), and San Diego (78.8).
"You don't want to just think about why things are going badly for the poor in America. You want to think specifically about why they're going poorly in Tulsa and Detroit," Raj Chetty, a Stanford economist who is the study's lead author, told the
New York Times
.
So what could be putting Detroit at a disadvantage? Well, Thomas R. Frieden, director of the Centers for Disease Control and Prevention, gave some clues, explaining to the Times that while income and life span are very much tied, there are certain things that can help improve the health of a community such as "wide access to social, educational and economic opportunity."