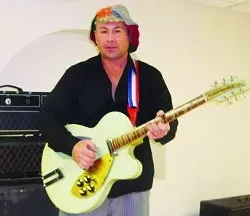 Snap in time
I am writing to tell you how much I enjoyed the "Glossed Over" article (by Michael Jackman, Feb. 20). The pics are a real hoot and take me back. I remember a lot of those groups firsthand from that decidedly different era of PR.
Also, the band you refer to as "The Goofy Freaks" is actually my band "Pop Star Riddle," which still exists shambolically — straddling betwixt solo efforts and dormancy. That pic was probably part of a promo kit we sent to MT to promote a show at the dawn of the '90s. Good times! We are putting out some new material shortly, and shows may follow.
Anyhow, thanks again for a great read, and best regards. —William Neshov, aka Guillermo, Detroit
Happy coincidence
It's "Happy" Tom McHenry, and was I surprised to find this picture of me, taken at Len Puch's (of Speedcult and Snakeout) parents' house for the album Crack Me a Smile. The tractor picture shown in your "Glossed over" piece didn't make the cut, but Bill Schwab and I went out on I-94 in front of the Uniroyal Tire for the cover shot. Basically, I would run out when the traffic died down and juggle some clubs on the freeway, while Bill was in the median shooting up with his camera. I had Bill Bowen (Octane Design), draw over the Uniroyal hubcap because I actually thought the album (yes, it's vinyl!) would take off and I'd lose millions due to copyright infringement. Alas, I've been seen selling them at my own garage sales for 25 cents apiece! If you want one, feel free to let me know … there's a couple hundred left in my basement.
The timing of this piece was perfect, as I've moved up in relative terms to bigger and warmer places. Yes, that's right, I'm playing March 9, at the Holiday Inn in Southgate. To me it's quite a step up from the "Freezer Theater" on Cass (no heat, no food) to the Holiday Inn (heat and food), so it's pretty exciting, sans the fact that I have to play in the morning.
Thanks for putting together a very funny collage of bands who put forth the effort to look as good as they sound. It was a time filled with great promise, and some of us from the Motor City actually turned it into a living. As for me, I had to resort to becoming a psychologist to make ends meet. —"Happy" Tom McHenry