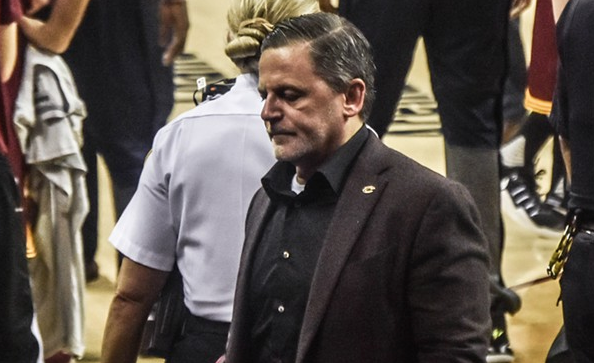 In 2010, when LeBron James left the Cleveland Cavaliers for Miami, team owner Dan Gilbert issued a
rambling letter
in which he sounded very much like a lover scorned.
LeBron, once a hero, was a deserter, and northeast Ohioans deserved more.
"I PERSONALLY GUARANTEE THAT THE CLEVELAND CAVALIERS WILL WIN AN NBA CHAMPIONSHIP BEFORE THE SELF-TITLED FORMER 'KING' WINS ONE," Gilbert said in an open letter typed in comic sans (yes). "If you thought we were motivated before tonight to bring the hardware to Cleveland, I can tell you that this shameful display of selfishness and betrayal by one of our very own has shifted our 'motivation' to previously unknown and previously never experienced levels.
Some people think they should go to heaven but NOT have to die to get there."
If your memory serves you, you'll remember that LeBron was leaving the Cavs because he wanted to win a championship, and Miami seemed to have a squad in place to help him do it. This is very common in sports, though we do agree with Gilbert that the way LeBron went about the move was a little whack:
"This was announced with a several day, narcissistic, self-promotional build-up culminating with a national TV special of his 'decision' unlike anything ever 'witnessed' in the history of sports and probably the history of entertainment," Gilbert said in the letter.
Now, LeBron, back in his hometown of Cleveland with Daddy Danny, is speaking out on Gilbert's comments. In a lengthy feature on the athlete published today by
GQ
, Lebron says he remembers the letter from time to time and felt it had racial overtones.
Did you feel like Dan Gilbert's letter was racial?

"Um, I did. I did. It was another conversation I had to have with my kids. It was unfortunate, because I believed in my heart that I had gave that city and that owner, at that point in time, everything that I had. Unfortunately, I felt like, at that point in time, as an organization, we could not bring in enough talent to help us get to what my vision was. A lot of people say they want to win, but they really don't know how hard it takes, or a lot of people don't have the vision.

So, you know, I don't really like to go back on that letter, but it pops in my head a few times here, a few times there. I mean, it's just human nature. I think that had a lot to do with race at that time, too, and that was another opportunity for me to kind of just sit back and say, 'Okay, well, how can we get better? How can we get better? How can I get better?' And if it happens again, then you're able to have an even more positive outlook on it. It wasn't the notion of I wanted to do it my way. It was the notion of I'm gonna play this game, and I'm gonna prepare myself so damn hard that when I decide to do something off the court, I want to be able to do it because I've paid my dues."
The
GQ
article comes amid speculation over
LeBron's future with the Cavs
. Many believe he will leave the team for the L.A. Lakers when he becomes a free agent at the end of this coming season. And, shit, if it means another letter like that out of Gilbert, we sincerely hope he makes the move.