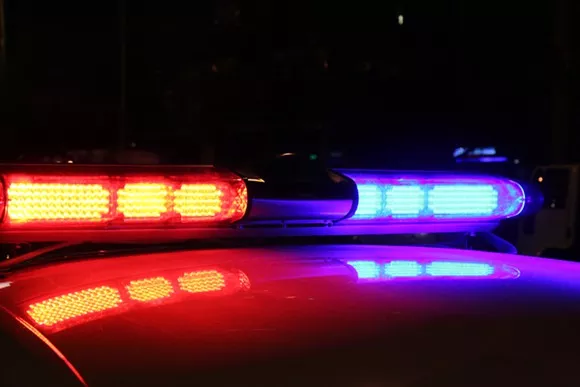 A Detroit police officer unnecessarily shot and killed a resident's dog during an exterior search of a home earlier this year, according to a federal lawsuit filed Thursday.
On Jan. 31, several Detroit officers approached Darryl Lindsay's house on Detroit's west side in search of a suspect related to an unspecified incident, the suit says.
As Officer Darrell Dawson approached the front yard that afternoon, he spotted Babycakes, Lindsay's brown French mastiff. To some observers, Babycakes appeared harmless: The pooch was secured by a ten-foot steel cable leash tied to the south side of Lindsay's home, according to the lawsuit, which follows an incident last month where a Detroit police officer
shot and injured a cattle-dog mix named Millie
at the old Tigers Stadium site.
But Dawson apparently viewed Babycakes as a threat to his safety: He told a dispatcher he was going to "take the dog down," the suit says.
The officer's dash camera captured what happened next, according to the suit: Dawson walked toward the dog in the driveway "just beyond the reach" of her leash, stopped momentarily, and then shot her twice in the chest. Babycakes died shortly after.
Compounding the situation further, said Lindsay's attorney Christopher Olson, was the officers had additional options to maneuver around the dog and gain access to the backyard. Dawson's dash cam showed several officers hopping the fence on the opposite of the home where Babycakes was situated, he said.
"In other words, the guy had lots of other options to get where he needed to go besides shooting this dog," Olson told
MT
.
Officers proceeded to interrogate Lindsay inside his home; according to the suit, one officer — who isn't named — told Lindsay, "Oh, I had to shoot that one."
Lindsay wasn't charged with a crime, the suit says.
A spokesperson for the city — which is named as a defendant, along with Dawson — said it doesn't comment on pending litigation.
"The city will make its response in the form of its pleadings in court," said spokesman John Roach.
Lindsay's five-count complaint claims several civil rights violations, intentional infliction of emotional distress, and failure to adequately train officers. The suit seeks unspecified compensatory and putative damages.
Olson said case law, and the U.S. Constitution, prohibits police officers from shooting a dog when it doesn't pose a legitimate threat.
"We don't live in a world where police are permitted to just show up to your house, trying to do some police business, and willy-nilly kill our pets," Olson said.
One female officer involved in the exterior search that day expressed a similar sentiment; the suit says she lamented the incident in a remark captured on the dash camera's audio recording.
"That dog got shot," she said, "and had nothing to do with it."