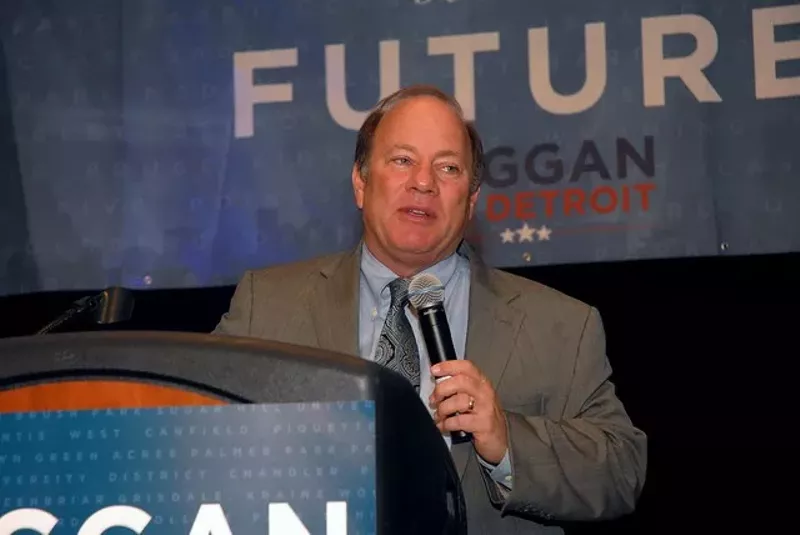 The already weird legal battle between businessman Robert Carmack and Mayor Mike Duggan just got way weirder, with Carmack now alleging in a lawsuit that the Mayor doesn't live in Detroit — a violation of the city charter, which states all city employees must be residents.
In Detroit, the mayor typically lives in the Manoogian Mansion. According to the suit, filed Monday in Wayne County Circuit Court and
first reported by The Detroit Free Press
, Carmack sent a Freedom of Information Act request for video surveillance footage from the mansion's 13 cameras from 2014 to 2018, which would prove if Duggan actually lives there. But the city responded that it would charge more than $41,000 to provide the tapes, arguing that it costs that much to have city employees download the videos and review them to redact any protected information.
Then, in a follow-up email, the city later stated that the cameras only actually store 30 days worth of footage and that it would cost $20,000 to download and redact the tapes.
"Charging exorbitant fees to gain access to public information is just Mayor Duggan's way of preventing the truth from being revealed that he once again is not a lawful resident of the City of Detroit," Carmack's attorney Andrew Patterson told the paper.
To us, it seems a bit odd to call that sum "exorbitant" for a guy like Carmack, who has appeared to be loose with his money lately. Last week, the
Free Press reported
that Carmack has already paid at least $20,000 to hire private investigators to follow and record the mayor — even going as far as renting a truck with TV screens on the back and broadcasting footage outside city hall that he claims proves Duggan is having an extramarital affair. (The Mayor and his wife have denied the allegations, and the Freep points out that nothing in the video proves the claim.) Carmack was also recently revealed
to have donated more than $150,000
to the Crime Stoppers reward fund to solve the murder of Tamara Greene.
Given everything else Carmack has on his plate at the moment, that last big spend doesn't seem to make a whole lot of sense. But curiously, it ties back to the Manoogian Mansion: Greene was a stripper who was famously rumored to have attended an alleged 2002 party at the Manoogian Mansion hosted by then-Mayor Kwame Kilpatrick. Her family believes she may have been murdered by Detroit police as part of a cover-up, though a case filed by the family against the city was thrown out for lack of evidence.
Duggan Chief of Staff Alexis Wiley denounced Carmack's allegations that the Mayor doesn't live in Detroit. "This conversation is silly," she told the paper. "The mayor lives at the Manoogian and has since he took office." She also said Carmack could incur lower FOIA costs if he limited his request to one camera, not all 13.
Carmack, who owns an auto repair shop, has been embroiled in an ongoing legal battle with the city over 10 acres of industrial property in Southwest Detroit that the city says Carmack illegally stole and sold. Previously, it was revealed that Carmack wore a wire in an FBI corruption probe against Detroit City Councilman Gabe Leland, who Carmack alleged asked for $15,000 in campaign contributions to settle the property dispute.
It wouldn't be the first time Duggan's Detroit residency — or lack thereof — nearly got him in trouble. Though Duggan was born in Detroit and graduated from Detroit Catholic Central High School, he lived in Livonia before moving back to the city in 2012 to run for mayor. Candidates have to live in Detroit for at least a year to qualify, and Duggan did — although he filed his campaign paperwork just two weeks before his official 1-year anniversary, which disqualified him from the ballot.
Nevertheless, Duggan managed to become mayor by running a successful write-in campaign.
Stay on top of Detroit news and views. Sign up for our weekly issue newsletter delivered each Wednesday.