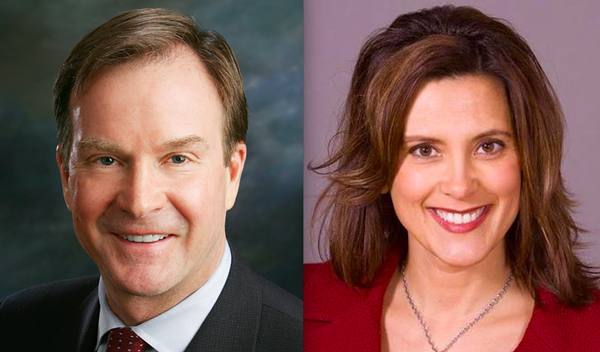 (Ed. Note: Whitmer won.)
(Ed. Note: So did Stabenow.)
A last minute poll shows Democrat Gretchen Whitmer with a double-digit lead over Republican Bill Schuette in the race for Michigan governor, and Democratic incumbent Sen. Debbie Stabenow leading Republican challenger John James by seven points.
The Mitchell Research & Communications
poll
of 700 likely voters conducted on Nov. 4 found Whitmer with a 54-40 lead, and Stabenow with a 53-46 edge.
Whitmer has largely led by double digits throughout the campaign, though an Oct. 24 EPIC–MRA
poll
put her up by only five points. However, an Oct. 29
Detroit News
poll found her lead at 12 points, and the last minute Mitchell survey suggests she's in a strong position.
Though James has cut into the 23-point lead Stabenow held in September,
polls in the last two weeks
have found her up between seven and 14 points, suggesting that James isn't going to complete a comeback.
The poll also revealed a sizeable gender gap in support for the two Democratic candidates. Stabenow is up 23 percent among women and down 12 percent with men, while Whitmer is up 28 percent with women, but down five percent with men.
"In the year of the women, both Gretchen Whitmer and Debbie Stabenow are very strong with women voters," says Mitchell Research president Steve Mitchell. "Whitmer and Stabenow are poised to win on Tuesday."
After a controversy last month caused by a James campaign ad that
displayed a swastika
, James received a boost last week from a visit to Grand Rapids by Vice President Mike Pence. Later in the week, Trump lawyer and former New York City Mayor Rudy Giuliani endorsed James, though Giuliani gaffed by tweeting out
a ringing endorsement
of "Don James." Giuliani got his name wrong — twice.
Polls have long been subject to skepticism, but 2016 provided a healthy reminder that pollsters can miss the mark. So regardless of what you hear, vote.
Will Feuer is an editorial intern with Metro Times
.
Stay on top of Detroit news and views. Sign up for our weekly issue newsletter delivered each Wednesday.