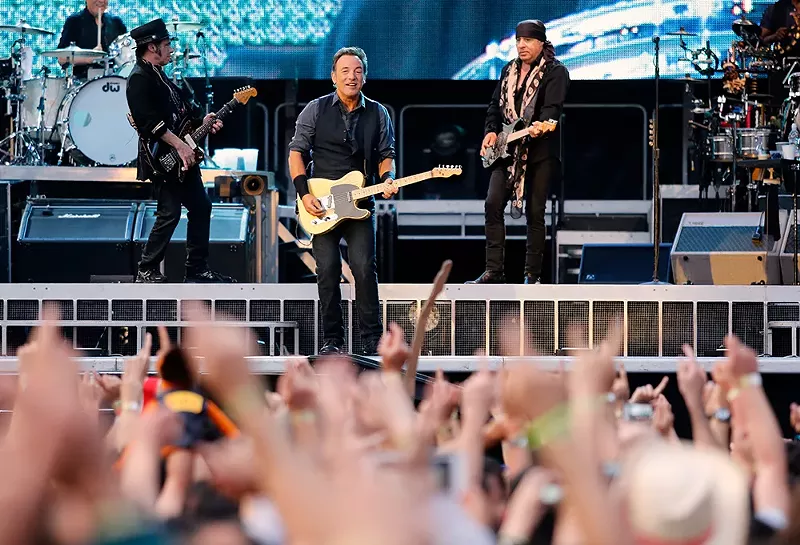 En route to Detroit and everywhere else, the touring Bruce Springsteen stopped last week for a non-concert gig in Washington, D.C., to accept a "National Medal of the Arts" from President Joe Biden.
Corny Uncle Joe called him "a 'Joisey Boy'" and he hinted at his own potential re-election bid by referring to a Springsteen song.
"Bruce," the President said, "some people are just 'Born to Run,' man."
Biden then presented a large, gold medallion to Springsteen, who wore a dark suit and a large smile while a narrator read a proclamation.
"For his extraordinary contributions to the American songbook — and for being 'The Boss,'" said the proclamation to cheers, laughter, and "Bruuuuuce!" sounds in the East Room of the White House.
"One of our greatest performers and story-tellers," the proclamation continued, "Bruce Springsteen's music celebrates our triumphs, heals our wounds and gives us hope, capturing the unyielding spirit of what it means to be American."
After the ceremony, Biden, Springsteen, and the other honorees filed out to an instrumental of a signature Springsteen song, "Born in the USA."
With all the flags and the portrait of George Washington in the room, you could almost imagine "Born in the USA" as an alternate national anthem, celebratory and proud. Ronald Reagan tried this trick with this song back in his 1984 re-election campaign.
But the storyline of the lyrics reveals the lament of a disillusioned war veteran with blue-collar employment problems. Springsteen themes sometimes echo Woody Guthrie with mixed messages about the United States.
"Born down in a dead-man's town . . . I'm a long-gone Daddy in the USA."
At age 73, for the first time since April of 2016, Springsteen will perform in metro Detroit on Wednesday at Little Caesars Arena.
This is the first quarter of Springsteen's long, punishing, and lucrative tour of North America and Europe through most of 2023. So far, he's hit at least two potholes, one involving health, another the price of tickets.
Early in the tour, some members of Springsteen's 18-piece "E Street Band" missed shows due to COVID-19. And early this month, three shows were postponed due to a vague "illness" that affected some unknown person. (Take your guess).
Upon his return, Springsteen looked fit and energetic, but his age puts him in one of COVID's danger zones.
And part of his current show deals with death, with songs like "Ghosts," about deceased members of the E Street Band, and "Last Man Standing," about himself as the final living member of his first teenage garage band, The Castilles.
"Springsteen has done the impossible," the Asbury Park Press wrote after he performed in Philadelphia. "He's constructed a show about mortality that feels like a party."
Another requiem on this tour has a Detroit connection: "Night Shift," a cover of the Motown hit by the Commodores about the deaths of Marvin Gaye and Jackie Wilson. It's from Only the Strong Survive, Springsteen's current album of covers.
Other Detroit hooks on this CD include Springsteen's versions of "I Wish It Would Rain" (Temptations), "What Becomes of the Broken-Hearted" (Jimmy Ruffin), "Don't Play That Song" (Aretha Franklin), and "Someday We'll Be Together" (Diana Ross and the Supremes).
Might Springsteen perform one or more of these for the Motor City? Perhaps. A crowd pleaser who reads a room well, Springsteen — in Boston — kicked off his encore with "Dirty Water" by the Standells.
"Down by the banks of the River Charles . . . Boston you're my home."
And maybe Springsteen will dust off his old "Detroit Medley" of tunes by Mitch Ryder and the Detroit Wheels. Back in 1975 — only 48 years ago! — he played it to open his encore at the downtown Michigan Palace.
Last time around here, at the other Palace (in Auburn Hills), Springsteen brought out Bob Seger (arguably the Michigan version of Springsteen) to bang a tambourine and sing backup for the closers of "Tenth Avenue Freeze-Out" and "Shout!"
Come what may, I'll be there Wednesday at the LCA to see and hear him, with my $350 Ticketmaster ticket (plus $60.30 in extra, added "fees") to sit in the upper level.
At this modest price, I'm one of the lucky ones. This tour — among others recently — has exposed how sales of entertainment tickets have been rigged into a ripoff plateau through market manipulation.
Once illegal, ticket scalping is now legitimate as "dynamic pricing" and the costs grow as the tickets pass through connected brokers and speculators on internet sites. They usually add the extra "fees" after you've decided to click for your ticket.
This tour — among others recently — has exposed how sales of entertainment tickets have been rigged into a ripoff plateau through market manipulation.

tweet this
When some Springsteen prices reached $5,000, even the Springsteen fanzine Backstreets Magazine wrote: "Too many Springsteen fans got thrown to the wolves." According to Rolling Stone, the company Live Nation holds a near monopoly over live music and Ticketmaster controls 80% of concert venues.
Perhaps, on his White House visit, Springsteen could have mentioned something to Biden about antitrust laws and consumer protection.
This will be at least my tenth Springsteen show. I can't help it. I lived 20 good years in New Jersey, where you automatically get your drivers' license, your plates for your car, and your Springsteen tickets. (And in Jersey, they tend to pronounce it more like "Jezzy" than "Joisey.")
In Jersey, every citizen is somehow connected to the E Street band. "My sister's next-door neighbor is the hairdresser for the wife of the main roadie!" That sort of thing. And Springsteen's such a Jersey guy that he testified righteously to his state's musical history.
When Stephen Colbert asked Springsteen what song he'd want to hear if he could hear only one song for the rest of his life, The Boss chose "Summer Wind," by Frank Sinatra, the Chairman of the Board, another Jersey guy who sang some songs, too.
Had anyone asked me the same question, I would have requested "Summer Wind" second behind Springsteen's live recording of a Tom Waits song called "Jersey Girl."
"'Cause down the Shore everything's all right / You and your baby on a Saturday night . . . "
And if you're reading this, Boss, please feel free to sing "Jersey Girl" in Detroit for a Michigan guy. Shoot, if you do, I'll even pay another extra "fee."
Coming soon: Metro Times Daily newsletter. We'll send you a handful of interesting Detroit stories every morning. Subscribe now to not miss a thing.

Follow us: Google News | NewsBreak | Reddit | Instagram | Facebook | Twitter