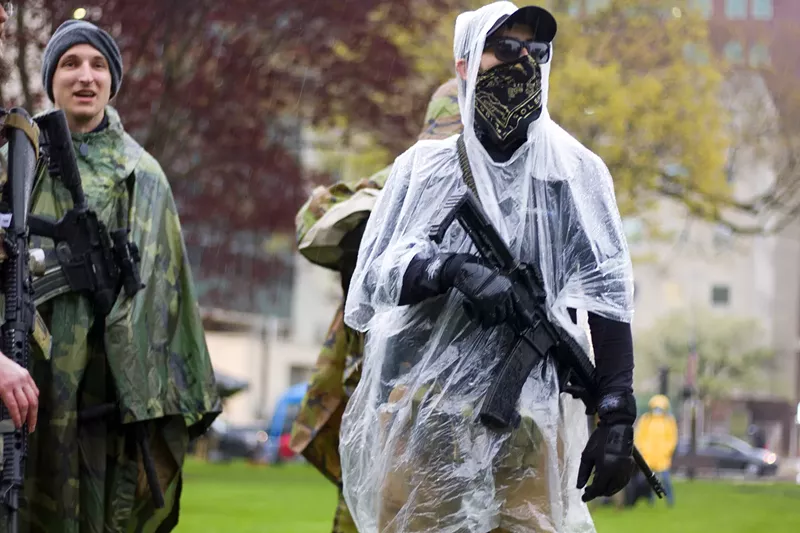 On Thursday, dozens of protesters — some brandishing guns, and at least one brandishing an ax — gathered at the Capitol, demanding Gov. Gretchen Whitmer end her coronavirus stay-at-home order, which they say is killing the economy and limiting their freedom. (Or
"FREEEDOM!!!"
as one large banner put it.) It was the third such gathering in recent weeks.
The first,
"Operation Gridlock"
on April 15, was meant to be a "drive-thru" social-distancing protest by car. Though the right-wing DeVos-connected Michigan Freedom Fund claimed
not
to be organizing the event (they were merely "advertising it," they said), they nevertheless tried to contain the angry crowd by
reminding them to stay in their vehicles
.
Given the organization's
laissez faire
approach to the protest, it was hardly surprising that they failed to control the group. Quite a few protesters got out of their cars anyway, posing for
dramatic photos
on the stairs of the Capitol that made headlines across the world. Some held signs comparing Whitmer to Hitler and waved Confederate flags. President Donald Trump egged them on, tweeting,
"LIBERATE MICHIGAN!"
The armed protesters returned to the Capitol during a Congressional debate over Whitmer's emergency powers on April 30, growing in size. They brought more signs, some calling for violence against Whitmer. Some even forced their way into the Capitol Building, making for
even more dramatic photos
that made headlines across the globe — rattling both Democrats and Republicans. "You shouldn't be intimidated going to be the voice of the people who elected you," Whitmer
told NBC News
. Even Republican Senate Majority Leader Mike Shirkey, who has been leading the Congressional fight against Whitmer over her emergency powers, called the protesters
"a bunch of jackasses"
and
"thugs."
Trump once again encouraged them, calling them
"very good people"
and telling Whitmer she needs to negotiate with them.
The move prompted a bipartisan debate over why guns are even allowed in the Capitol at all. Days later, a security detail of armed, mostly Black men even escorted State Rep. Sarah Anthony, a Lansing Democrat, to the Capitol
to prove a point
about racial double standards. (Unarmed Black men, of course, have been shot and killed by police for far less.) John Truscott, the vice chairman of the Michigan State Capitol Commission, which runs the building, and a gun-owning Republican himself, said
they likely couldn't ban guns without legislative action
. Attorney General Dana Nessel, who called the protesters a
"powder keg,"
issued a formal opinion saying they could. The Capitol Commission's legal counsel basically responded with, "Well, that's just your opinion, man." The issue remains unclear.
Meanwhile,
Metro Times
infiltrated several private Facebook groups
whose members graphically called for Whitmer's assassination, in violation of the company's policy against hate speech. Facebook eventually removed the groups after
Metro Times
started reporting on them, ahead of Thursday.
After weeks of escalating tensions, Thursday's protest landed with a bit of a thud — likely thanks, in part, to the rain. It was perhaps too easy for certain smug liberals (
*ahem*
) to laugh at the drenched protesters' grammatically challenged signs and bizarre fashion choices. But a larger, disturbing point got lost in all the kerfuffle: The Legislature
quietly canceled its Thursday session due to the protest
, opting to instead meet on Tuesday.
On Friday, Whitmer criticized the move,
telling CNN
, "The Legislature apparently didn't want to be around for this activity that many of them incited, frankly."
It's hard not to count that as a win for the protesters. But what can be done? Disobeying the state's stay-at-home order could result in a $1,000 fine. Apparently, officials have no interest in enforcing it among these protesters. But would that infringe on their right to peaceably assemble and free speech? Then again, is it really "negotiating" if you're holding an assault rifle?
In the meantime, it's likely this armed mob will return. But how much longer can we continue to pass along this hot potato? Nobody really seems to know what to do with it — except for Trump.
Stay on top of Detroit news and views.
Sign up
for our weekly issue newsletter delivered each Wednesday.