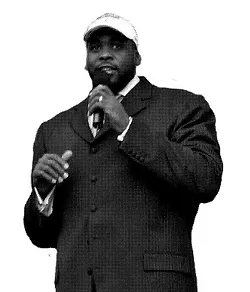 As we were preparing to go to press on Monday, a verdict was returned in the federal corruption trial of former Detroit Mayor Kwame Kilpatrick, his father Bernard Kilpatrick, and "FOK" (friend of Kwame), contractor Bobby Ferguson.
After two weeks of deliberation, the jury found all three men guilty of various felonies.
The former Hizzoner, accused of using the city of Detroit mayor's office as
the base of an ongoing criminal enterprise, was found guilty in 24 of the 30 counts he faced, including racketeering, extortion and fraud. His longtime friend, Ferguson, a linchpin in the former mayor's schemes, was found guilty on nine of the 11 counts he was charged with, including racketeering, extortion and bribery.
Despite the persistent and adamant denials from all involved, anything less than guilty verdicts on the most serious, if not all, counts would have been absolutely shocking, prompting a quick check of hell to make sure the pilot light had not been extinguished. In fact, the biggest surprise might be that Bernard Kilpatrick was found guilty on only one count — a tax evasion charge. At last check, the pyres were still aflame.
Here at the Hits, our first inclination was to do a little joyous fist pumping upon hearing the announcement. These three guys — along with others who helped fleece a struggling, poverty-ridden city — all deserve to spend serious time behind bars for what they've done.
Nor can we forget how Kwame — for years — both lied whenever confronted with questions of wrongdoing and shamelessly played the race card in his relentless attempts to deflect allegations made against him.
In the end, though, the prevailing emotion here is one of sorrow: We think of Kilpatrick's intelligence and powerful charisma; how so many Detroiters looked up to him; all the good he could have done for a city and its citizens desperate for uplift. Instead, greed got the best of this political son, and the eplilogue of his sad tale will be the sacrifice of everything, including his wife, children and more than 700,000 residents just to fill his pockets with millions in dirty cash.
Yet, most sorrowful of all is how far all this corruption — and the massive distractions that went along with it — set back a city that is now on the verge of having an emergency manger appointed by the state to take over its control.
News Hits is written by Curt Guyette. Contact the column at 313-202-8004 or [email protected]