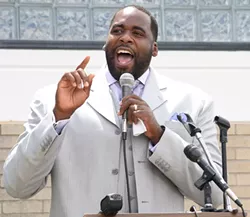 A week after losing his longshot bid for a new trial at the U.S. Supreme Court, disgraced former Detroit Mayor Kwame Kilpatrick said he received a bogus trial and that he wasn't guilty of "any crimes" that landed him behind bars.
In a sprawling, at times rambling post published on his brother-in-law's Facebook page, Kilpatrick said he's found a new purpose in prison and has regularly counseled other inmates.
"I am NOT depressed, distraught or dismayed," he wrote. "I know the purpose and calling that God has given me for my life … and I'm ready to tenaciously and confidently move into that work. I am humbly asking for your support, and others, to help me do that."
The High Court declined in a brief order last week to hear Kilpatrick's appeal of his conviction on multiple corruption charges, which brought a 28-year prison sentence in 2013. As we reported last week, the former Democratic Party darling had contended his trial lawyers had a conflict of interest and that federal agents were given excessive leeway to prosecute him.
Kilpatrick has long maintained he was falsely charged, and that his conviction was the result of an extensive conspiracy. In the Facebook post published this week, he said, "I have NEVER extorted anyone … I was not found guilty of direct extortion."
With the Supreme Court's ruling in hand, Kilpatrick's one-in-a-billion-chance legal quest to overturn his conviction now has limited remaining avenues: a presidential pardon — something highly unlikely, given President Barack Obama's effort to distance himself from Kilpatrick long ago.
His case isn't entirely over, yet. Last fall, the U.S. Sixth Circuit Court of Appeals vacated a $4.5 million restitution charge that Kilpatrick was ordered to pay to the Detroit Water and Sewerage Department. That remains pending before U.S. District Judge Nancy Edmunds in Detroit.

Click here to read the 2008 Metro Times story about Kwame, "Just Go."
The full Facebook post is below:
I have learned so much during this part of my life's journey. My strength, focus, resolve, passion, courage, confidence, and purpose have all been renewed. God has continued to bless me, keep me, and even carry me at times, through the phenomenal experiences of this season in my life.

Through it all, I have discovered so much about myself; Good, Bad, and Ugly. By the grace of God, he began to draw me, compel me, in a way that I had not known before. I finally came to the end of myself, fell down on my knees, and accepted the holy gift of salvation. There is no greater, or more important thing, that I have EVER done in my life than surrendering to His will for my life. Since that day (in June of 2014), "all things have become new."

I say this to you and others, because I truly believe that there must be a foundation for my words, my perspectives, and in-turn, your activities in Detroit. I need for everyone to know that I am NOT condemned, nor am I guilt-ridden. I am NOT depressed, distraught or dismayed. I know the purpose and calling that God has given me for my life...and I'm ready to tenaciously and confidently move into that work. I am humbly asking for your support, and others, to help me do that.

The Federal Criminal Justice system is a very wicked and evil system. I have seen men beaten, even killed, and even more disturbing...I watch Dead Men walking around here everyday. The way that most get here by plea of guilty to specific crimes. However, they are typically sentenced to far more.

In the sentencing phase of Federal Cases, "enhancements" are added to every Defendant. If you did not help the government (snitch), and specifically, if you chose to go to trial, you can expect a great deal of enhancements to be added to your base-level sentence.

I had more than a Decade added to my sentence for enhancements alone. So many of these young guys plea to 5, 10, or 15 years for non-violent cases, and walk out of the courtroom with 20, 30, 40, or even more than 50-year sentences. And its all done under the guise of Justice!

Family, this is the most pressing Civil Rights Issue of our time! I see 4 generations of Men (mostly Black, Mexican, and Poor Whites) everyday, and more of them arrive, here at El Reno, and prisons around the country, on every Monday! The NAACP, Urban League, MOST Black Churches, and Black Organizations are completely MISSING from the debate or fight to change, transform it. They may pay some lip service...but there is NO AGGRESSIVE, FOCUSED, NOR COMMITTED ACTION AT ALL!

The Feds in Detroit committed more than 140 people, from their Detroit Office, to my prosecution. FBI Agents, IRS Staff, Lawyers, Administrative Staff, etc.

They spent more money on my investigation and trial than ANY other case in the history of the Eastern District. They opened up the first Grand Jury on me in February of 2002 (only a month after I took office).

They wire tapped my phone (and others around me) for more than 9-years. Not a single one of these phone-calls was used by the Prosecution during my trial. There was no criminal activity, whatsoever, over 9-years. So it was better to use One or Two word answers in Text Messages; "Cool", "Ok", "Will Call Later", etc. These were hailed by prosecutors to be "Agreements to do crime."

The Feds also called over 300 people to the Grand Jury over a 9-year period of time. Many of you were called. They worked diligently with the Local Media, State Authorities, Prosecutor Worthy, and Detroit Police to fabricate and plant news stories about Money, Strippers, Trips, Vacations, Partying, and the like, in order to further drive a wedge of mistrust amongst the electorate and citizens of Detroit and Kwame Kilpatrick. It also further diminished any notion of professionalism, "know-how", ability, and work-ethic, within the job of Mayor. Yes, the Feds and State Officials have admitted to working together over in the prosecution. And yes, it worked masterfully!

They sold this trial to the public (thereby severely tainting the jury pool) with rumors, innuendo, and speculation. They said it was about "stealing money", giving Bobby Ferguson Contracts, "Fixing" Contracts, and even driving the city into Bankruptcy.

There is not a single count, assertion, nor conviction, in my case of ANY stealing of ANY money.

As a matter of fact, there is no embezzlement, no misuse of public funds, no fixing of contracts, no bid-rigging, no money. And certainly, the trial, case, nor issues thereof, have NOTHING to do with the City's Bankruptcy at all. NOTHING!

But the entire city bought it. The whole thing! Yes, "Real" Detroiters too! Don't fool yourselves. Millions of dollars was spent by the Government, Media Stations, and even Private Businesses to "Get Kwame!"

I AM NOT GUILTY OF ANY OF THE CRIMES THAT I WAS CONVICTED OF! NONE OF THEM!

-I have NEVER been apart of a RICO CRIMINAL ORGANIZATION (a two-man RICO Organization for 6 contracts. The other nearly 4000 contracts, during the same period of time, were not apart of this supposed RICO).

***All 6 of the contracts in question were performed on-time, on-budget, and have served Detroit very well. Two of these contracts have won awards. One of these contracts moved the City of Detroit/DWSD out of a 30 Consent-Decree in the Department. And yet another was the most outstanding and wonderfully coordinated project in the City's History. It totally redesigned Downtown Detroit, Created Campus Martius, enabled the building and restoration of more than 75 Downtown Structures, and enabled the City to host Superbowl 40.

***There was not a single contract where ANYONE was paid for work that was not done. Nor was there ANY assertion of thereof.

-I have NEVER extorted anyone (nor was there any testimony, at-trial, that I ever did from any witness. I was not found guilty of direct extortion. I was found guilty of "Extortion by Color of Official Right." The theory was that Bobby Ferguson extorted people for Sub-Contracts, and these people/companies gave him the sub-contract because they were scared that I might "hurt them economically." NONE OF THESE PEOPLE TESTIFIED TO ANY FEAR OF ME AT ALL!). And only one of these contractors testified that he had ever spoken to me at all by saying "He never extorted me, nor did I ever bribe him...he was a friend of mine."

-I NEVER criminally misused ANY funds from the Kilpatrick Civic Fund (there was a yearly audit...if a check was written that should not have, I paid it back at that time, or a few months later.) Also, the Fund raised more than $3 Million. The Government says that less than $9000 was misspent from 2001-2007. ALL of the things you heard in the news; Trips with my "Lover", Golf-Clubs, Family Trips, and other nonsense...was less than $9000 out of a total pot of $3M. AND, the trips that were deemed personal by the audit were paid back to the fund YEARS BEFORE ANY INDICTMENT, TRIAL, or ASSERTIONS thereof.

I know, without any doubt, any mental reservation, or hesitation at all, that every single experience that I have endured, within my life, has further prepared me for what's next. I have made some very foolish decisions, hit my head on the wall several times, and even failed miserably. There is no question about it. But I have NOT done, nor taken part in, or been involved in ANY way, with most of the nonsense that you have heard about me in Detroit. It was all a very sinister, well executed, and treacherous plan. I most definitely helped it along with some character flaws of mine. But Detroiters shared in the drumbeat, the movement, to kick me out as well.

Unfortunately, the campaign to kick out Mayors is a "Detroit Thing!"

Young, Archer, Kilpatrick, Cockrell, Bing, were all hated, despised, and viciously assaulted at the end. The most beloved Mayor in the City's History, Mayor Young, died while being imprisoned by the circumstances of his own life, in a Downtown Detroit Apartment, unable to breath on his own, paranoid, unable to sleep in the apartment alone, and penniless. Certainly we gave him a great funeral. But unfortunately, there were very little applause, voices of gratitude, and flowers for him, while he was in his last days in that Riverfront Apartment. That's how we loved him! WE MUST STOP THIS! AND WE MUST STOP IT NOW!

Family, by the grace of God, I have had the blessed experiences of talking to President Clinton aboard Airforce One about Football...as well as being in Solitary Confinement and talking with the Head of the Mexican Mafia about President Clinton, his "favorite politician." And so many other interesting, one-of-a-kind experiences in-between. I've seen horrible things. Humbled myself to God's will, in the face of hatred and racism, and at other times, been provoked to stand in the midst of the same.

I've counseled Gay Men, Gang Members, Killers, Drug Dealers, Whites, Blacks, Mexicans, Young, Old, etc. I lead our Worship and Praise Team here at our Chapel (Yes, I sing and lead our praise at Church services every week), and have received the favor to speak, by the inspiration of God, into the lives of men who need a Word from the Lord. I have discovered this one thing; GOD HAS A PLAN FOR MY LIFE! This prison has served as a womb for regeneration, rebirth, renewal, and repositioning.

All of this has been building towards one great moment; Walking out of the front door, and pursuing purpose on the outside of these prison walls. There is strength in Unity! I truly thank you for whatever you are able to commit to doing, providing, and/or supporting me to continue this walk. May God be with you all!