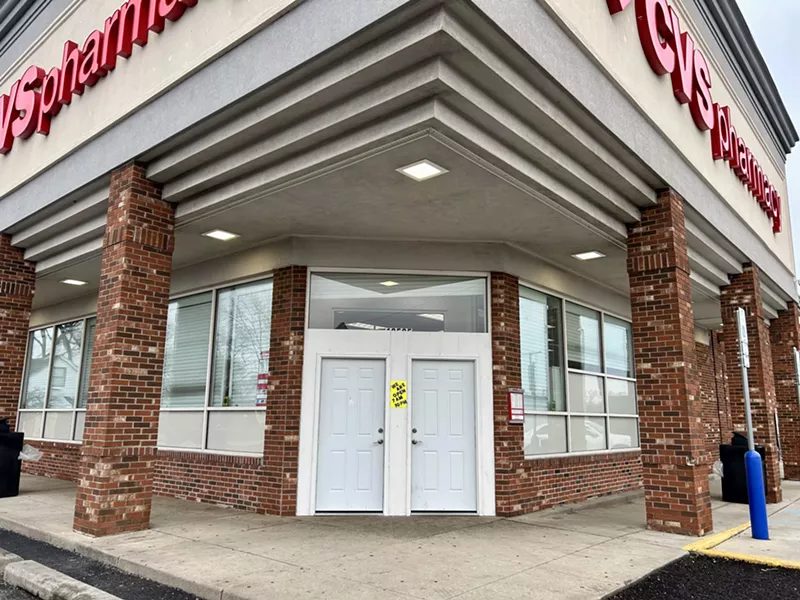 Customers weren't quite sure what to make of the white double wooden doors at the entrance of a CVS pharmacy on Detroit's east side on Friday morning.
"Are they closed?" one man asked.
Another customer quipped, "Where's the doorbell?"
It was an odd look for the CVS at East Warren and Mack near the border of Grosse Pointe.
Would-be thieves used a car to smash through the normal glass doors at about 5:30 a.m. on Jan. 6, and for a quick fix, CVS installed wooden doors that look like they belong on a home.

No one was injured, and the suspects didn't steal anything, Detroit police tell Metro Times.
A bright yellow sign assured customers that the store was open from 7 a.m. to 10 p.m.

CVS employees declined to discuss details of the robbery, and neither Detroit police nor the pharmacy's corporate spokespeople would comment.
A Church's Chicken in Detroit resorted to a similar repair after a car smashed into the building.
Coming soon: Metro Times Daily newsletter. We'll send you a handful of interesting Detroit stories every morning. Subscribe now to not miss a thing.

Follow us: Google News | NewsBreak | Reddit | Instagram | Facebook | Twitter