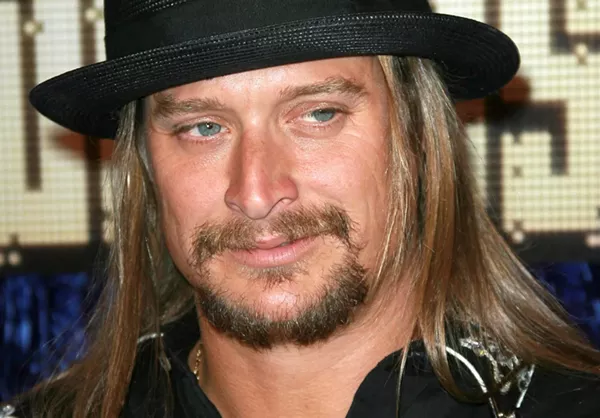 With just a day to go until he helps open the Little Caesars pizzarena to the public, Kid Rock has taken to Facebook to address the controversy swirling around the outsize role he'll play at the site. But instead of extending an olive branch to the people he's upset through his alleged use of "dog-whistle" tactics, Kid Rock opted to channel Donald Trump and bash them.

In a 10-paragraph post equipped with a whopping five postscripts,

Kid Rock
called out the Rev. Al Sharpton for apparently not paying his taxes, and
described local civil rights activist Sam Riddle as a "piece of shit criminal" and "prime example of a lot that is and has been wrong with Detroit."
He also doubled down on his distaste for civil rights advocate and former NFL player Colin Kaepernick ("To be clear - FUCK ANYONE who takes a knee or sits during our national anthem!") and brushed off concerns over his continued use of Confederate flag imagery, which most recently appeared in a video released this summer("They are trying to use the old confederate flag BS, etc. to stir the pot").
Kid Rock also threatened to stop supporting the local people, businesses, and charities he's donated to in the past, because "none" of them "had anything to say about all these unfounded attacks from these handful of jackasses."
The outburst comes as the Romeo native
faces renewed criticism
ahead of a six-concert series at the Little Caesars Arena and the opening of a restaurant bearing his name.
But activists' grievances extend beyond the entertainer: The National Action Network of Michigan has blasted
Olympia Entertainment
for hiring Kid Rock to christen the arena, which was erected in a majority-black city with help from taxpayer contributions. The group has scheduled a Tuesday protest to coincide with Kid Rock's opening concert, and says it may mount a Little Caesars boycott campaign as well.
Public scrutiny of Kid Rock and Olympia swelled in the wake of the horrific scenes that played out during a white nationalist rally in Charlottesville, Va.
Olympia has since defended its selection of the artist for the inaugural shows, which were announced in January.
"Kid Rock has been a consistent supporter of Detroit, and the marketplace has responded accordingly to his appearances," the company said in a statement issued early this month. "Performing artists' viewpoints in no way represent an endorsement of those viewpoints by Olympia Entertainment."
Detroit Mayor Mike Duggan also would not disavow Kid Rock, and seemed to brush off resident concerns when asked about the selection last week.
"If you don't like Kid Rock's politics or music — don't go to the concert," Duggan said.
But no one gave Kid Rock a more full-throated defense than Kid Rock himself.
"Pay NO attention to the garbage the extreme left is trying to create!" he said in his Monday post. "We all know none of this would be going on if I were not thinking of running for office."
To that end, Kid Rock has given us a glimpse of what we can expect from a candidate Kid, borrowing from President Donald Trump's playbook of lies, boasts, and derision. In between dissing civil rights leaders, Kid Rock laced his statement with cries of "fake news" and even included a lie-brag about "sold out" concerts that, as of Monday morning, were still not sold out.
And we can't help but note that he did it all while writing at a Flesch-Kincaid fourth-grade reading level, saying "employ" when he meant to say "implore," and overlooking the squiggly red line that certainly should have appeared beneath "bonified."
In the end, however, Kid Rock wants you to look beyond his politics and poor prose and walk away knowing this:
"P.P.P.P.P.S. I LOVE BLACK PEOPLE!!"
If only we were that stupid.