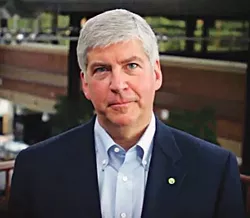 News Hits was checking out a press release sent out Monday by the Detroit chapter of the Rev. Jesse Jackson's Rainbow Push Coalition and other similarly left-leaning allies when something interesting caught our eye.
We were already aware of the announcement's main thrust: That there is much concern about the plan to remove an estimated 12,600 families from the state's welfare rolls come Oct. 1 so that Gov. Rick Snyder's budget for the coming fiscal year can be met. The move is expected to save the state some $77.4 million a year. Judging from some of the comments posted on this rag's website after the Hits wrote about the issue last week, a fair number of you out there aren't all that troubled by the prospect of 50,000 people — the majority of them children — losing their financial lifeline at a time when the state's unemployment rate is a daunting 10.5 percent.
So much for compassion.
The release we received was trying to get out word that a town hall meeting on the issue is going to be held at 7 p.m. this Thursday (Aug. 25) at IBEW Local 58, 1358 Abbott St., Detroit.
What really grabbed our attention, though, was mention of the fact that, at the same time the state is planning to kick people off of welfare, it also failed to apply for federal funds that could have gone into the hands of people collecting unemployment.
What's up with that, we wondered.
Here's what we found out:
In 2009, as part of the federal American Recovery and Reinvestment Act, a big green carrot was dangled in front of states as a way of enticing them to "modernize" their laws regulating how unemployment benefits are handled. They were given four options, at least two of which had to be enacted to receive funding — in the case of Michigan, a whopping $137 million — that could be used to help keep money flowing to the unemployed.
In 2010, when the Michigan House was still under the control of those bleeding-heart Democrats, legislation was passed by that body calling for two of the required changes. One would allow the unemployed to collect benefits while taking job training. The thinking was that doing so would better enable them to find some new job.
The other proposed change was to allow laid-off people who were only looking to work part-time to also collect. As pointed out by Rick McHugh, Midwest coordinator for the nonprofit National Employment Law Project, nearly two-thirds of these part-time workers are women, and the majority of them earn relatively low wages.
"Michigan's restrictive part-time rule is simply inequitable and out of step with the role of part-time work in a modern economy," McHugh said in testimony provided to the Legislature.
After passing in the House, legislation authorizing the changes died in the Senate. Then, last November, the GOP took control of all three branches of Michigan government. And any attempts to make the changes were completely snuffed. Freshman Rep. Jim Ananich, a Democrat from Flint, couldn't even get the House Commerce Committee to hold a hearing on the bill he introduced.
Why not?
Because Michigan's business community, in the form of the state Chamber of Commerce and similar groups, didn't like it.
The business groups objected because the changes would have created an economic hardship for employers, says the chamber's Wendy Block, explaining that the influx of federal money would have been a one-time thing, but the expanded obligations (funded through payroll taxes) would go on indefinitely.
A majority of other states — 38 to be exact — were able to resist similar pressure and pass legislation needed to qualify for the stimulus money. You know, money that would help keep people from defaulting on their mortgages and going into foreclosure. Money that would keep getting pumped into the economy, helping keep us all afloat.
And we're talking about some very red states — states such as Georgia — that were able to rise above partisan politics in order to make a move that is obviously a smart one.
Instead, with newly installed Gov. Rick Snyder and the GOP-controlled Legislature calling the shots, we've thrown away $139 million of badly needed money as the state continues its struggle to recover from the crippling effects of the Great Recession.
Snyder, the self-described business nerd who is holding public office for the first time, has clearly demonstrated his ability to get legislation passed when he wants to. Ironically, one of his first big legislative achievements also involved unemployment benefits.
Less than three months after becoming governor, Snyder pushed through a reduction in the amount of time the unemployed can collect state benefits, going from 26 weeks to just 20.
That change — which made Michigan the stingiest state in the nation in terms of the amount of time the unemployed could collect a check — not only helped trim the budget.
According to Democratic U.S. Rep. Sander Levin, it also had this affect: "It turns the clock back 50 years at a time when unemployment is at historic highs since the Depression."
You remember the Depression — a cataclysmic economic event that supposedly taught us that sound economic policy requires an adequate social safety net that allows us all to survive hard times. Hard times like we are seeing now. Times in which we are watching that safety net be systematically unraveled.