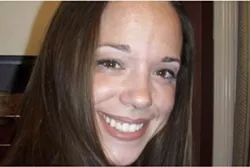 An Oakland County jury awarded $5 million Tuesday to the family of Sally LaMay, who was struck and killed by a SMART bus in Troy.
LaMay, 37, died Nov. 25, 2014 at Maplelawn and Crooks while walking in the crosswalk on a green light when a bus making a left-hand turn ran her over, according to Southfield-based attorney Geoffrey Fieger, who represents LaMay's family.
A video from the bus shows LaMay attempting to run away, according to Fieger. The 37-year-old is survived by two children, Julian and Mekenna.
"At trial the SMART bus company took the offensive position that Sally did not suffer any pain while the bus tore her apart," Fieger says in a statement. "The jury disagreed. The verdict was returned after a weeklong trial. The jury deliberated only two hours."
The verdict amount is the highest of the year in Oakland County, according to Fieger's office. The trial was held before Oakland County Circuit Judge Nanci Grant.
The driver of the bus, James Maholmes, was charged with a moving violation causing death.
According to
The Detroit News
,
Maholmes was fired from SMART and then dismissed from the case
prior to trial — but died Jan. 5.