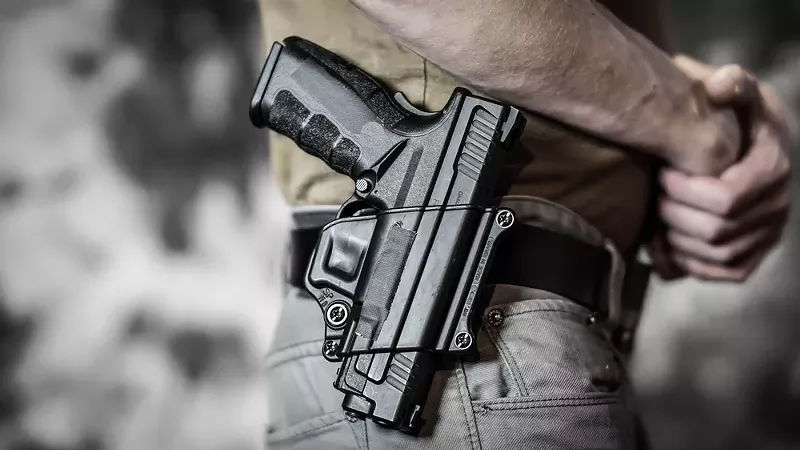 On Tuesday, a Michigan judge struck down Secretary of State Jocelyn Benson's directive banning the open carry of guns at polling places on Election Day — increasing the potential for violence under already explosive circumstances.
Benson
issued the directive earlier this month
following President Donald Trump's campaign calling for an
"Army of Trump"
to monitor the polls, and after law enforcement officials said they
thwarted a domestic terrorist plot
against Gov. Gretchen Whitmer.
A recent report placed Michigan
among five states with the highest risk of violence
during and after the election. Another report
predicted the U.S. is especially susceptible to violence
due to the widening chasm of inequality. (Hmmmm,
if only there was a candidate
who ran explicitly on fixing that...)
Due to the increased demand for absentee voter ballots, officials say we're unlikely to see results on Election Day, and
are urging people to be patient
while they tally every vote. This could also fan the flames of civil unrest, especially if Trump casts doubt on the legitimacy of the process. (He already has.)
Attorney General Dana Nessel ordered
Michigan State Police troopers to help keep the peace
at polls, and the NAACP
also said it will also monitor the polls
for voter intimidation. Benson and Nessel both said
they will attempt to appeal
the decision blocking the open-carry ban, but with less than a week until Election Day, who knows what will happen.
Anyway, with all the threats of chaos on Election Day, you might want to consider voting early so you don't have to deal with any of these armed nutjobs.
Given Trump's cuts to USPS, it's too late to send your absentee ballot by mail. (It needs to arrive by Election Day.) But you can still request an absentee ballot and return it to your local clerk or a designated drop-box.
See our
voter guide
for more information — and please be careful.
Stay on top of Detroit news and views. Sign up for our weekly issue newsletter delivered each Wednesday.