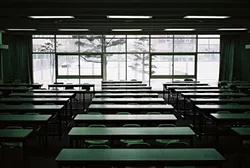 A judge has ruled against Detroit Public Schools in a suit the district filed last January against two teachers they alleged had an instrumental hand in the district's widespread sick-outs.
Judge Cynthia Diane Stephens' eight-page opinion states that the district failed to meet its burden of proof and more damningly, interpreted state law in a manner that was "offensive to fundamental rights of free speech."
Last winter DPS filed a lawsuit against 28 defendants — the vast majority teachers — in an attempt to stop a succession of teacher sick-outs that were forcing schools to close for the day (on the day of the filing Jan. 20, 88 of the districts 97 schools were closed because of protest).
Two teachers were determined, by the district, to be the ringleaders of the sick-outs: Steve Conn — the ousted president of the Detroit Federation of Teachers and an educator at Western International — and Nicole Conaway — a teacher at East English Village Academy High School. The district sought an injunction against the duo, who they argued were illegally pressuring teachers to take part in the sick-outs, which the district argued was really just a strikes — which is illegal under the Michigan Public Employment Relations Act.
Judge Stephens disagreed.
"Here, the vast majority of the speech attributable to defendants concerns complaints to the state government to rectify educational, financial and structural problems in the Detroit Public School District, and not issues concerning the rights, privileges or conditions of their employment," she said, referring to the fact that Conn and Conaway have also been particularly critical of the state control of the district and emergency management.
The case made news in July when the
Detroit News
revealed — via documents obtained through Freedom of Information Act requests — that the district had
spent $285,000 on a private attorney
to sue the teachers. These hefty fees were particularly notable considering during the course of the lawsuit DPS was arguing that it didn't have enough funds to pay teachers for they had already completed, and more significantly that representatives of the district, like Emergency Manager Judge Steven Rhodes, were pleading, at the time, with Michigan legislators to pass a financial rescue package.