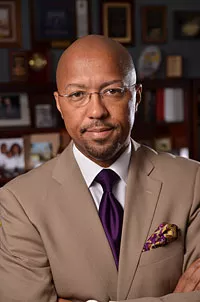 A judge recused herself this week from presiding over the criminal sexual conduct case against Charles Pugh, as she has a past working relationship with the former Detroit city council president.
During a hearing on Tuesday, 36th District Court Judge Shannon Holmes said she removed herself from the case to avoid the appearance of impropriety, according to The Detroit News, even though she knew she could remain "fair and unbiased." The case was transferred to Judge Denise Lewis Langston, who scheduled a preliminary examination for Aug. 5.
Pugh, 44, was charged last month with six counts of criminal sexual conduct in connection with alleged incidents involving a 14-year-old boy that occurred between late 2003 and mid-2004. Prosecutors allege that Pugh had "inappropriate sexual contact" with the complainant at his Detroit apartment on several occasions. The criminal sexual conduct charges carry possible maximum life sentences.
"Despite what the defendant has meant to the city in the past, and the positive work he did here, we cannot and will not turn a blind eye to these alleged facts," the Wayne County prosecutor said in a statement last month.
The judge kept Pugh's bond at $500,000, despite the protests of the former Fox 2 anchor's attorney, Delphia Burton.
"He's not a flight risk," Burton said at the Tuesday hearing. "Prosecutors distorted the facts at the arraignment that he was a flight risk. There was no legal obligation for him to remain in Detroit." Burton said Pugh would be willing to wear a tether if he was released. Langston said she'd revisit the issue of bond at the preliminary exam next month.
Pugh was extradited last month from New York City, where he has lived since 2013.