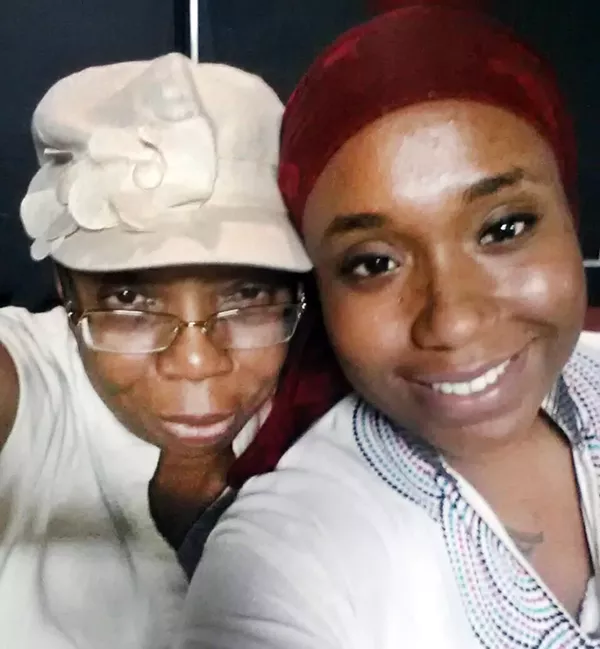 A new judge presiding over Detroit activist Siwatu-Salama Ra's case won't allow Ra to be released on bond while she appeals March felonious assault and firearm convictions that resulted in a two-year prison sentence.
Ra, the 26-year-old co-director of the Detroit-based East Michigan Environmental Action Council, in June gave birth while imprisoned for what she and supporters say was an act of self-defense.
Since March, Hathaway's docket was transferred to the court's other judges, and Ra's case landed with Rick Snyder appointed-Donald Knapp, Jr.
On Friday, Ra's attorney, Wade Fink, filed a motion to have Ra released on bond while the appeal process plays out. Knapp ruled that Ra is a danger to the community and should not be released.
Fink tells
Metro Times
he's shocked by the decision because even the prosecution agreed that Ra didn't pose a threat to society, and it did not oppose Fink's motion to have Ra released.
Fink characterizes Knapp's decision as "mean-spirited."
"The prosecutor has agreed in the past that [Ra] is not a danger — that's a courageous and thoughtful thing that the prosecutor's office did, and they should be commended for that," Fink says. "There's an unopposed motion, the prosecutor — who is law enforcement — said 'No, she's not a danger.' There was one person in the courtroom who thought that Siwatu didn't deserve a bond, and that was Judge Knapp."
The decision is especially frustrating to Fink and Ra's supporters because Ra is separated from her infant, which can have serious ramifications for the baby's development.
He also notes that the standard for release pending bond requires defense to show there is substantial issue on appeal, and he says they have unquestionably met that.
Fink plans to ask the the Michigan Court of Appeals to release Ra on bond pending appeal. A panel of jurists in appeals court could take up the case before the year's end, Fink says.
If the appeals court rules in Ra's favor, the case would be sent back down to Knapp's courtroom.
Knapp was
appointed by Snyder
in April, is a member of the conservative
Federalist Society
(which has also had Brett Kavanaugh and Antonin Scalia in its ranks) and is a rare right-wing judge in the Wayne County Circuit Court. He's running unopposed in the November election.
Stay on top of Detroit news and views. Sign up for our weekly issue newsletter delivered each Wednesday.