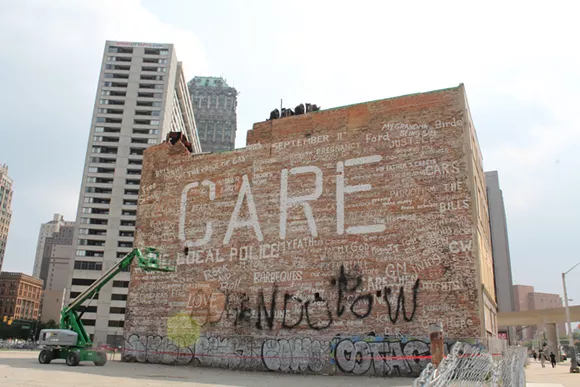 A Wayne County Circuit Court judge today ordered the owner of the former AAA building at 139 Bagley Ave. to demolish it by the end of next week.
In a 50-minute ruling from the bench this morning, Judge Robert Colombo said the 5,800-square-foot, five-story building located adjacent to the former Statler Hotel has deteriorated to the point "a high wind can easily knock the east wall down ... and injure or kill members of the public."
The terse ruling followed a contentious court battle that has quietly played out since late June. The city filed a lawsuit against the building's owner, Triple-A Venture, seeking demolition of the property — a decision that would facilitate
a proposed $40 million development on the site of the Statler
, which was demolished in 2005.
Triple-A's part-owner and decision-maker, Anthony Pieroni, said he saw potential for redevelopment at the site, in light of the Statler proposal and an anticipated $650 million new Detroit Red Wings arena and entertainment district — or, at least, what he considered a fair purchase price. As he put it on the stand last Friday, "Things have changed."
Colombo didn't buy it, even after Pieroni said he would possibly sign a consent agreement to redevelop the property, as proposed by a city attorney while he was on the stand last week — depending on the circumstances. Colombo said Pieroni has had eight years to begin renovations, with more than $1 million in settlement fees after damage to the building took place during the Statler's demolition. His recent work on the building, Colombo said, is "too late and totally insufficient."
Colombo said of Pieroni and the 76-year-old's responses to the city's previous efforts to demolish the structure: "He takes to intimidate you, that he'll use top law firms" to defend himself.
Colombo added: "Mr. Pieroni has no intention of renovating the building.
The building must be demolished no later than Aug. 15, at Pieroni's expense, Colombo said. If it's not torn down by then, the city can pursue necessary action to have it demolished.
Saying he was "pleased" by the outcome, Detroit Corporation Counsel Melvin Butch Hollowell said after the ruling that the city will take measures to ensure Pieroni reimburses whatever costs the city incurs — if he doesn't demo the building himself.
Detroit attorney Hugh "Buck" Davis, who represented Pieroni, said the ruling today "was my first ever condemnation by character assassination case."
"It's amazing how this court can publicly abandon what on it's face is corruption," Davis said.
Davis and his client contended in court the city was orchestrating a scheme of sorts to push Pieroni into selling the property at a lower price to the developer of the Statler site, Farming ton Hills-based Village Green companies.
"The city itself, and in concert with the Detroit Economic Growth Corporation, has brought this action at the taxpayers' expense to give the private developer leverage in its negotiations for a potential private sale of the property," Pieroni's lawyers wrote in a counter-complaint.
After initial discussions with Village Green's Jonathan Holtzman fell through, Pieroni's lawyers say in court filings that he arranged a meeting in April with Brian Holdwick of the DEGC to discuss potential development of the site. According to court documents, Pieroni alleges that Holdwick didn't like his offer, calling it "unfair" and "unreasonable."
At the April meeting, Holdwick allegedly said if Pieroni didn't concede to a lower price on 139 Bagley, any future developer of the Pieroni-owned Michigan Theatre Building "was likely to be denied the kinds of tax breaks ... financial incentives the City commonly offers for downtown development projects," according to the counter-complaint. Pieroni alleges that he pulled the Michigan Theatre Building from a set auction due to "disclosure problems" created from the situation. Holdwick deferred requests for comment to DEGC spokesperson Bob Rossbach declined comment, citing the ongoing litigation.
About three weeks later, Pieroni's lawyers entered into evidence an email string received in a Freedom of Information Act request, purporting to show Mayor Mike Duggan ordered the demolition.
"Brian from [Detroit's Planning & Development Department] ... came to me about about this today," wrote then-building inspector Arthur Edge, in the email dated May 21 to David Bell, executive manager of BSEED. "He said he was coming from a meeting with the Mayor and that the mayor wanted the location demolished. I told him to contact you."
It's unclear who "Brian" refers to, but roughly a half hour later, Bell wrote in an email to Edge and top officials in the building department: "Team, Get me an inspection on the way into the office tomorrow." Edge, who testified in court late last month, said he later attended a meeting where he was told the mayor wanted the building torn down.
Even so, Colombo said today, that argument holds "no merit" because "nothing that happened in that meeting affected Edge's opinion," that 139 Bagley was a dangerous structure and should be demolished.
Davis said he withdrew the counter-complaint in order to file a direct appeal of Colombo's ruling to the Michigan Court of Appeals, which he expected to file later today. He said Pieroni has three years to re-file the complaint, which he expects would likely happen in federal court.
*********
Constructed in 1916, the 139 Bagley structure previously housed the AAA of Michigan office from 1926 until it was damaged in a 2005 fire, which Pieroni, in court documents, says is the result of the Statler Hotel's demolition. Pieroni acquired 50 percent of the property's ownership in 1995, and later required the remaining interest just before the fire took place.
Since then, it has fallen into disuse; overhead views of the building show a relatively nonexistent roof. According to court filings, Pieroni filed incurred roughly $1.8 million in settlement fees for the damage.
In court filings, the city attempts to paint Pieroni as a holdout owner of a decrepit building, one who's been waiting to cash in on a lucrative opportunity. After learning about the $40 million Village Green project in March, Pieroni arranged a meeting with Village Green's chief, Jonathan Holtzman, and said he'd sell 139 Bagley for $4 million, according to court records. It was a standard price for real estate, Pieroni argued, at 10 percent of the total project cost.
"It is too obvious for words that the [Detroit Economic Growth Corporation (DEGC), which staffs the DDA] was willing to provide the Statler Hilton property to the developer for $1 as part of a major economic development project bringing $40 million investment to the city — housing, resident, jobs and taxes; the $1 price was not meant for the purpose of enriching Pieroni," the city wrote in a court filing.
Holtzman offered $1 million for the property, court records show, but Pieroni declined. Then, according to court records, Holtzman decided he could move forward with the Statler City project, without Pieroni's property — but only if 139 Bagley was demolished. Holtzman offered to cover demolition costs, and allow Pieroni to keep control of the property, according to court documents. Again, Pieroni declined.