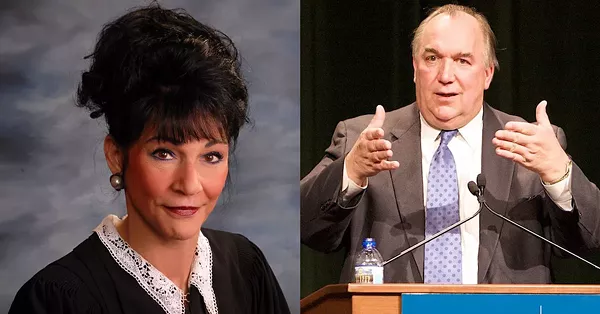 The Ingham County judge who became an internet sensation after her emotional remarks during Larry Nassar's sentencing now has a message for John Engler: Step down from your role as interim president of Michigan Statue University.
Judge Rosemarie Aquilina made the statement ahead of a speech at a "Women in Blue" breakfast event for Detroit police officers and firefighters this morning, the
Detroit News
reports.
Engler, the former governor of Michigan, has bullied a victim and appointed his political buddies to MSU since taking the role, Aquilina told the daily paper.
"This isn't politics," she added, referring to Engler's appointments.
The comments come after Aqulina last month stopped short of saying Engler should step down, telling the
News
she didn't want to get
"into a political mess."
Aquilina rose to prominence after straying from judicial norms during Nassar's sentencing hearing, allowing any victim who said they'd been abused by the gymnastics doctor to deliver an impact statement. More than 150 women showed up, delivering powerful statements as the world looked on. Perhaps equally as memorable was Aquilina's scornful message for Nassar.
"Our Constitution does not allow for cruel and unusual punishment," the judge said as she handed down Nassar's 40- to 175-year prison sentence. "If it did, I have to say, I might allow what he did to all of these beautiful souls — these young women in their childhood — I would allow someone or many people to do to him what he did to others."
She added that it was her "honor and privilege" to sign Nassar's "death warrant."
Aquilina has since continued to support survivors of Nassar's abuse as evidenced by posts on her
Facebook
page. Her conduct has landed her on the cover of a local magazine (under the head
"Women Empowering Women"
) and led to speaking engagements like the one Tuesday morning. But her behavior has also been characterized as inappropriate for a judge; her statements at the sentencing drew comparisons to
"vigilante justice."


But Aquilina has embraced her bias, telling the
News
last month, "I'm not fair and impartial. The case is over. No judge is fair and impartial [after the verdict]. That's for before the sentencing."
None of this is to say Aquilina is necessarily wrong in her approach. She certainly is onto something when it comes to Engler, who was to begin with a questionable choice to lead the university as it seeks to rebuild its reputation. As we reported in February following his appointment, Engler in the '90s tried to
derail legal action stemming from a massive prison sex abuse and rape scandal
that involved 500 female inmates.
Since then, he has been accused of offering a Nassar victim
hush money
(he says he may have been
misunderstood
) and drawn criticism for putting his political allies in key roles. According to the
News,
Engler has brought in longtime communications aide John Truscott, and helped longtime Republican ally Kathleen Wilbur take expanded her role to include the university's top lobbying job. This week, in a move that still needs approval, Engler announced he'd be bringing on former Michigan Supreme Court justice Robert Young as vice president and general counsel. Young helped negotiate the $500 million settlement between the school and several hundred victims. In 2007, while on the state's high court, he wrote the majority opinion in a
ruling against
a woman who was the subject of workplace sexual harassment.
Stay on top of Detroit news and views. Sign up for our weekly issue newsletter delivered each Wednesday.