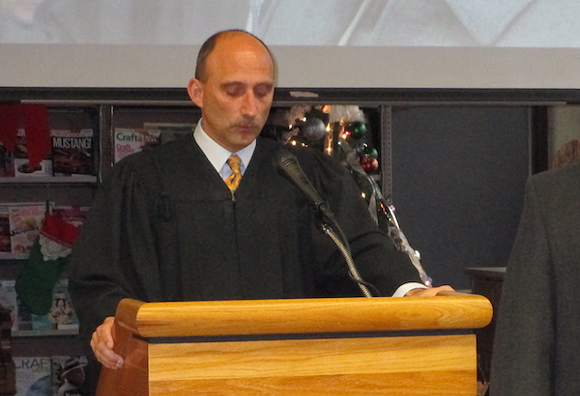 Just a little wrinkle to add to
our recent story about marijuana laws in Detroit and Hamtramck
. Those who read last week's piece know we relied on reporting from the
Hamtramck Review
, which noted that city attorney Travis Mihelick says he was asked by 31st District Court Judge Paul J. Paruk to "do something."
We put in a request about that quote with Judge Paruk, who was away at a judicial conference, last week. What we heard when he was able to respond to our inquiry surprised us. The good judge tells us:
Mr. Mihelick asked me in open court whether the City of Hamtramck had a possession of marijuana ordinance. I indicated the City of Hamtramck did not have such an ordinance. He indicated that he would look into the matter. End of our discussion. I only answered a question that he asked. I did not ask Mr. Mihelick to propose an ordinance regarding the possession of marijuana. Additionally, I did not ask Mr. Mihelick to take any action regarding any type of ordinance.


Now we have a great deal of respect for Charles Sercombe, the editor of the
Review
, and he's told us that he stands by his reporting on the issue.
We can only imagine that city attorney Mihelick, in his zeal to assist the judiciary, must have misinterpreted the judge's simple statement of fact as a rousing call to action.
All of which brings us to tomorrow's meeting. Those wishing to address the Hamtramck City Council on the proposed ordinance (and other ordinances proposed by council members), may speak at tomorrow evening's meeting. It should be a crowded one.
The issue before council is one of those that brings people out of the woodwork in a way sewer contracts and block grants don't. So anybody wishing to say no to the possession law, yes to the idea of decriminalization, or who just wants to show up and sell hot dogs or roasted peanuts to a capacity crowd, should arrive by 7 p.m. tomorrow, March 15, at Hamtramck City Hall, 3401 Evaline St., Hamtramck.