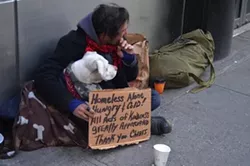 In the next two years, the U.S. could plummet into another recession, according to research from JPMorgan Chase & Co. The study's researchers claim there is a 60 percent chance that an economic downturn will occur in two years, and an 80 percent chance it will happen in three years.
Unsurprisingly, the latest round of federal tax cuts – whereby the
top 20 percent
of earners have received the largest break – is a significant reason for the projected economic slowdown. According to the Institute on Taxation and Economic Policy, by 2025 about $2 trillion of the cuts will have gone to the
richest one percent
.
As the
New York Times
reports
, quoting the former chairman of the Federal Reserve, Ben Bernanke, the tax cut "is going to hit the economy in a big way this year and the next year. And then in 2020, Wile E. Coyote is going to go off the cliff."
Another possible reason we're going to hit rock bottom, according to the
New York Times
, is because another bubble is being created – this time from over-investment in corporations. Simply put, large businesses have been taking advantage of
low-interest
rates and high profits, and in the process, they've been creating a debt bubble, which will soon pop.
The possible recession is similar to those in the past, where investors flooded markets, creating massive amounts of ballooning debts that never amounted to anything, ultimately leading to a crash. Unfortunately, every time this happens,
the poor
are disproportionately hurt most. America saw this occur in 2001 with the dot-com bust and in 2007 with the housing crisis.
Sam Corey is a Metro Times fall editorial intern.;
Stay on top of Detroit news and views. Sign up for our weekly issue newsletter delivered each Wednesday.