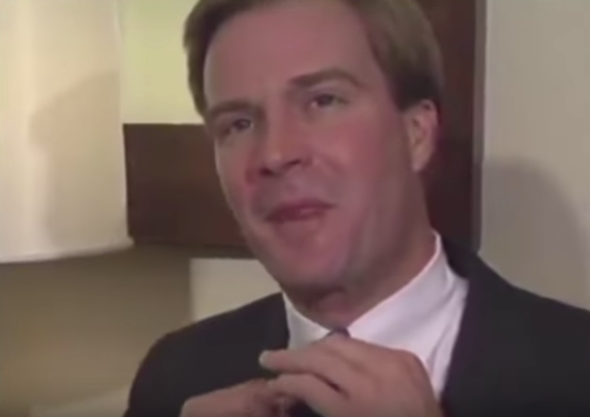 Bill Schuette's past came to haunt him earlier this month when an outtake from a video recorded in 1989 showed the Republican candidate for governor making sexually suggestive comments.
Although many Michigan voters already caught wind of the video, now Schuette is getting dragged in front of a national audience.
Schuette's lip-licking, tie-tightening behavior received a second-life during a special State Attorney Generals-themed episode of
Last Week Tonight with John Oliver
which aired on Sunday.
In the video, Oliver urges viewers voters in Michigan, and even those that aren't to google 'Bill Schuette 1989 video' "...so you can watch him creepily hitting on a woman behind the camera."
Oliver goes on to mimic Schuette's hocking in the video by saying, "Ugh. That is
roughhh
to watch, I don't know how she got
throughhh
the interview without punching him in the
dickkk
."
The video was originally released by the Schuette campaign in an attempt to get in front of negative media attention. The GOP gubernatorial hopeful went on record to apologize for his "poor attempt to be humorous," despite saying that the clip had been "heavily edited."
The Detroit News
recently obtained the original seven-minute interview and
reported that the video accurately depicts
the exchange between Schuette and the unseen camerawoman.
Although #SchuetteOnDuty is not running for another term as State Attorney General, John Oliver used the material to make one point very clear: "My point is, taking just two minutes to research your state AG is a valuable use of your time."
Watch Oliver skewer a creepy 1989-era Schuette below.
Stay on top of Detroit news and views. Sign up for our weekly issue newsletter delivered each Wednesday.