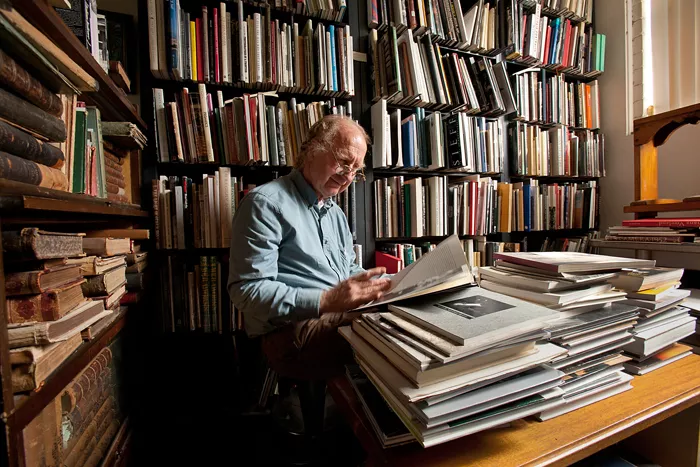 Bookworms are most likely already aware of John K. King Used & Rare Books — for years, the hulking downtown warehouse has been a treasure trove, boasting a collection of "one million books, give or take a dozen" in more than 900 subjects. The store's hand-painted sign and giant glove (more on that later) is an iconic sight for those taking the freeway downtown, and the store has a reputation the world over. Presiding over the collection is John K. King himself, a man who has been in the used book business for essentially his entire working life. We recently popped in to his store to ask him about what he does and why he does it.
Metro Times: How did you get into the bookselling business?
John King: As a child I used to hang around downtown Detroit, and I enjoyed going into various establishments. What intrigued me the most were used bookstores, for some odd reason. I was just attracted to the stuff inside of them. It just never left me. It's a fetish, I guess. … I ended up hanging out in used bookstores and meeting the various characters — I mean, Detroit had, when I was young, probably 20 used bookstores. Through osmosis I was convinced I should become a used book dealer.
MT: When did you start?
King: I started in the business in 1965, and we had our first bookstore around 1971 when were in the Michigan Theatre Building on Bagley. We started here, I think, around '83. I'm bad with exact dates. Then we have another location at Wayne State under a different name, and [our Ferndale location] started in … 1988? We'll go with 1988.
MT: You have a lot of items that aren't used books — postcards, records and other miscellanea. Do you sell all sorts of used items?
King: We'll have antique furniture. Someone died and had a moose collection, so we're specializing in "moosellanea" right now. A new bookstore can look on the Internet and order anything they need. We'll get one copy at a time of one book. We're unique in the sense where if someone is looking for a specific book, a lot of times we'll have it, but we're not going to have backup copies. Most of the books in here are one-of-a-kind books.
MT: Where do you get your books?
King: We buy estates and libraries. But we also have people walking in selling books they don't want. Most of our book buying is done through estates. Not estate sales: estates. Lawyers will call us or heirs will call us. We don't stand in line for an estate sale. We're not ambulance chasers. I don't read death notices. If we get called, we get called. If we don't we don't. We've been in business almost 50 years, so we haven't messed up too much. We're the largest used bookstore in Michigan and probably one of the largest in the country.
MT: Do you turn down a lot of stuff?
King: We turn down probably 90 percent of what's offered to us. We're looking for more of the esoteric stuff. We have to be selective. We're a large store, but we didn't want to become a supermarket of books. We specialize in out-of-print, rare, interesting, curious books as opposed to … just, stuff. Book of the Month Club, Reader's Digest — we don't want any of that stuff.
MT: It must be kind of daunting to keep an inventory of everything. How do you do that? Is there a database?
King: Nothing's on computers. Everything is done by hand, the way it's been done for years. We're still in the same sense of what a bookstore was if you go back 300 years … you get the books, you price them, you put them on the shelf, you put them in order. It's better than a computer. Computers really aren't compatible with used books. For a bookstore, I think it's better for a person to come in and find the book or we can help them find the book. They'll discover other things [on the shelf] next to the book or they'll discover things they never knew existed.
MT: This building was formerly a glove factory, correct? Was it abandoned before you occupied it?
King: Yeah. The sprinkler system was busted. The pipes were busted. It was a pain in the ass. We had to go through the bullshit with the city. The city bureaucracy is never on the small businessperson's side. And that's pathetic because you look at San Francisco and it's made up of mostly small businesses. Here in Detroit, if you're General Motors or Ilitch or Karmanos, they'll do anything for you. If you're a small businessman, they don't give a fuck. They don't realize: We have a lot of employees, most of them are Detroiters, we pay taxes, we pay all the outrageous stupid junk fees. I hope with the new mayor things change. If I were going to start a bookstore in a major city, Detroit would not be on my list of cities to open — and not because of people, but because of the city.
MT: Once the Internet came out, did that affect you guys? New bookstores have been closing.
King: We were here before Borders, we were here during Borders, and we're here after Borders. I think the last year or so the Internet maybe impacted us somewhat. The new groups that are moving in, the techies, the hipsters, a lot of them don't know what a book is because they grew up with computers. They come in our store and they spend an hour and the look on their face is like they were in World War I. They have post-traumatic stress! Not all of the new generation — but a good part of the new generation — is pretty clueless to what a book is. I think that's going to impact us more down the road. We're hoping, just like LPs have been revived, we're hoping people remember there are books and there's a used book revival. Hopefully we'll be around. We're a dinosaur in a computer age. I don't know how to predict our future.
John K. King Used & Rare Books is at 901 W. Lafayette Blvd., Detroit; 313-961-0622.