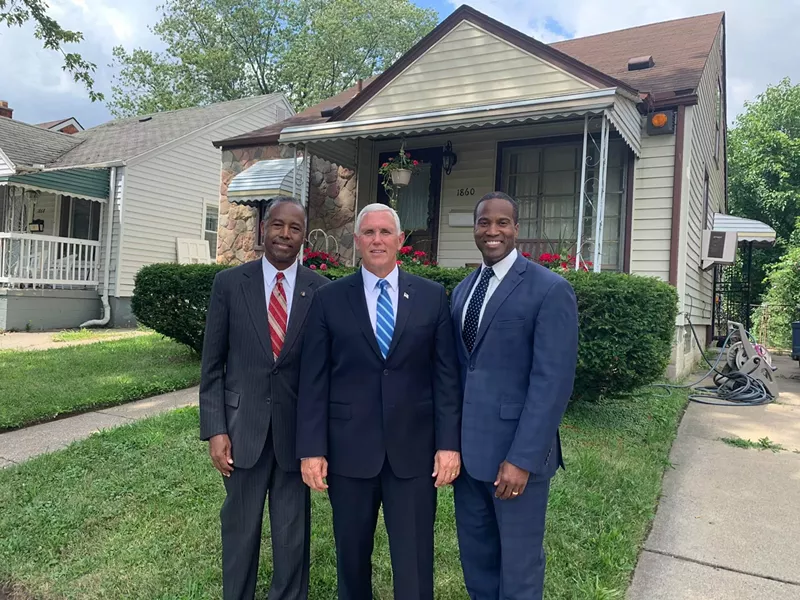 The stakes are high for the Nov. 3 general election. Aside from the opportunity to remove President Donald Trump from office, Democrats have a chance to take control of the U.S. Senate, with
a number of states in play
, including Michigan. Indeed, the race between incumbent Democrat Gary Peters and Republican challenger John James is so heated that it's likely to become
the most expensive in Michigan's history
.
So considering all that, it's a bit baffling that neither candidate appears to want voters to know whether he is the Democrat or the Republican, as noted in a recent
New York Times
story. (We just checked both of their campaign websites and had a hell of a time finding references to their own respective parties.) The strange strategy may be backfiring for Peters and working in James's favor, however. It's been suggested that perhaps people assume James, the Black guy, is the Democrat, and Peters, the older white guy, is the Republican. That could explain why
the race has narrowed
in recent weeks.
But here's a tell: James's flop of an answer when recently asked about the Affordable Care Act, aka Obamacare.
Republicans have long sought to "repeal and replace" President Barack Obama's signature legislative achievement. However, the GOP has so far failed to come up with a plan as to what exactly to replace it with, and WDIV's Devin Scillian, noting that James's website does not offer a specific plan, pressed James on it.
"So, here's the thing," James said. "I'm not a politician."
Oh really?
He continued, "I'm coming to this as somebody who has real-world experience."
WATCH: John James completely fumbles on @Local4News when pressed on how he'd protect Michiganders with pre-existing conditions. (Hint: it's because he has absolutely no plan to do so) #MISen pic.twitter.com/OA48Pvi4iG

— Elena Kuhn (@elenakuhn) October 18, 2020
You can watch the full interview
over at WDIV
.
James said he wants to create a "market-based, patient-centered" system "that would make the Affordable Care Act actually affordable by allowing competition through tax, tort, and regulatory reform, expanding risk pools across state lines, [and] allowing [small business] associations so people can have more choice."
He also said he wants to protect people with pre-existing conditions. Scillian countered that Obamacare already protects people with pre-existing conditions.
"Are you arguing right now that you do not believe that it should be repealed?" Scillian asked.
James conceded that he would want to keep the parts of Obamacare that work and fix the parts that don't. It's a bit of a reversal from James's 2018 run against Senator Debbie Stabenow, when he called the ACA a "monstrosity."
Critics call the GOP's rhetoric "empty." You can read a deep-dive into that
here
.
"John James's latest blunder reveals once again that he has no detailed policy plan on health care except repeating his empty talking points and is yet another reminder that he cannot be counted on to protect Michiganders during this pandemic," Michigan Democratic Party spokesperson Elena Kuhn tells
Metro Times
in a statement. "The fact that John James has been running for Senate and backing efforts to repeal the Affordable Care Act for more than three years but still has no plan to protect people with pre-existing conditions shows exactly why voters can't trust him in Washington."
The James campaign responded by again pointing to James's "real world" experience.
"Sen. Peters
told WXYZ's Chuck Stokes this weekend
that the aspects of the ACA that were intended to help small businesses and their employees afford health insurances 'have not worked,'" campaign spokeswoman Abby Walls say in a statement. "Meanwhile, in the crucial years following passage of ACA, Sen. Peters could not be bothered to show up to Small Business Committee hearings, missing every single meeting in 2012 and 84% of them overall. John James doesn't need 10 years' worth of studies and reports to know the ACA isn't working for small businesses. As an employer, John has dealt first-hand with the consequences of Washington's dysfunction. We need someone who will show up and can lead effectively, because they know what life is like on the ground."
This post has been updated to clarify James's comments, and to include a comment from the James campaign.

Stay on top of Detroit news and views.
Sign up
for our weekly issue newsletter delivered each Wednesday.