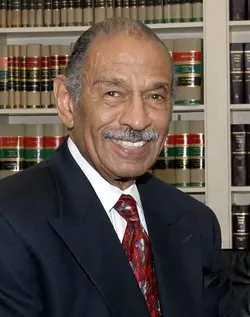 If you're one of the many powerful men recently accused of doing shitty things to women, what's the acceptable response?
Sexual harassment and assault allegations against members of rock bands Pwr Bttm and Brand New have resulted in canceled tour dates and a retreat from the public eye. Entertainment figures like Harvey Weinstein have been fired. Louis C.K. had his new film canceled, and Jeffrey Tambor stepped down from his show. Some, like C.K., initially responded with flat-out denials only to later admit that they were true and express remorse. Others, like Bill Cosby, have fought tooth and nail to deny the allegations.
For U.S. Rep. John Conyers, the course of action has been to
initially deny
, then later admit to a settlement with a staffer who accused him of sexual harassment
while still maintaining his innocence
.
Now, the congressman is digging his heels in amid calls for his resignation.
In phone calls on Wednesday, attorney Arnold Reed told multiple outlets that his client will not resign. One major tactic so far has been to engage in whattaboutism: "If we are talking about resignation and resignation over allegations, then half the people in the House, half the people in the Senate, including the president of the United States of America, would have to step aside, step down and or resign," he told the
New York Times
.
Reed gave a similar quote
to CNN
, adding, "At the end of the day, Mr. Conyers is not guilty of harassing these women who have come forward. It didn't happen."
Even the
Free Press
reluctantly
called for the congressman to resign
, acknowledging Conyers' good work and status as a hero but decrying his quiet use of taxpayer funds in the settlement as "a betrayal that breaches the most fundamental trust that exists between a public servant and the people that person represents."
The editorial board acknowledged it would be "a tragic end to his public career," but that it's "the appropriate consequence for the stunning subterfuge his office has indulged here, and a needed warning to other members of Congress that this can never be tolerated."