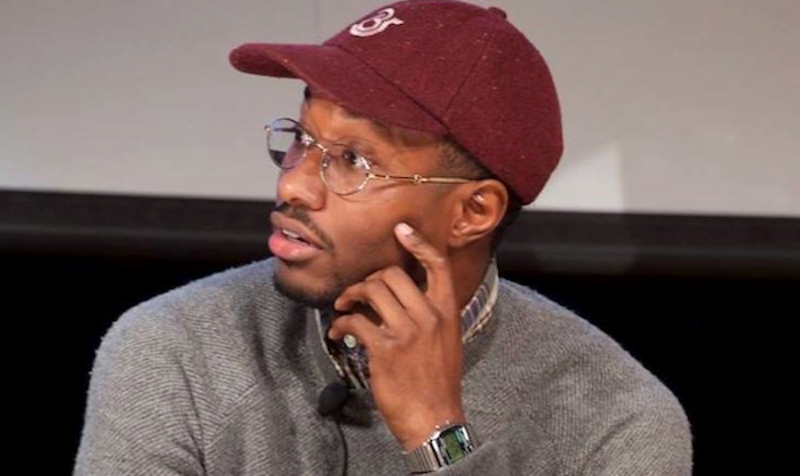 The announcement, which had been expected more than a month before the candidate filed his official papers several weeks ago, still had a whiplash headline:
"John Conyers Formally Announces Bid for Michigan's 13th Congressional District" it read.
Huh? The longest-serving congressman,
who stepped down in December
amid allegations of sexual harassment and assault, would seem to be making another run for the office.
Those who read on will discover it's actually John Conyers III, the son of the former representative, who is seeking the office.
The statement touts the qualities of the younger Conyers — his youthfulness, his energy, his emphasis on education, health care, and diversity in government that includes race and age.
It has been anything but a smooth ride for the office-seeker. As the scion of a political family that brought you Monica Conyers, he's been scrutinized since he was in college, and has been subject to
criticism over foibles that would have induced shrugs concerning other young adults
.
The Chicago Tribune
dismissed him in a headline
as "a writer and a rapper with no political experience."
The campaign's blog
offers little to suggest otherwise.
According to a report obtained by NBC News
, his ex-girlfriend told the police that, during an argument, the younger Conyers cut her with a blade and "body slammed her on the bed and then on the floor where he pinned her down and spit on her." Those are exactly the sorts of allegations that could make some observers think the apple doesn't fall far from the tree — that tree being another high-profile member of the Conyers family, mother Monica, whose high jinks and shenanigans made national headlines.
The Conyers name, though sadly tarnished down the years, may still help hoist the candidate — or his cousin, who's also running — into office. All it takes is enough nice, little, old, well-meaning church ladies going to the polls and, seeing the name Conyers on the ballot, smiling and whispering to themselves, "Wouldn't it be nice if ..." and filling in the appropriate circle. That's how we got such elected officials as the
Rev. David Murray
, Kwame Kilpatrick, and others hoping to trade on their parentage. And people have every right to fear the boost this phenomenon gives the ambitious and self-serving.
That's because the seat the elder Conyers held for a half-century — and largely kept warm for the last 20 years — should be occupied by somebody willing to advocate for rank-and-file Detroiters, embedded in daily life in our city. We've been impressed by Detroit lawyer and candidate
Michael Gilmore's
insistence that the election for 13th District rep should take place without delay, tying the lengthy postponement to the racial imbalance of emergency management. We're excited by the candidacy of the seasoned and progressive
Rashida Tlaib
, who's thrown her hat in the ring as well. Compare these energetic Detroiters to the young Conyers, an office-seeker in his 20s who
seems content to take selfies with political insiders
and "
divides his time between Detroit and Los Angeles
."
In fact, this young candidate's main offering seems to be his youth. "As a millennial candidate for Congress," John Conyers III states in a press release, "I am adding my name to the list of proud young leaders, proclaiming that our time is now, not tomorrow. If millennials were fully represented in Congress, one quarter of the members of the House would be under 40. As of today, only a few members are millennials. We can change that."
Setting aside any debate that a millennials is anybody younger than 40, there is at least one sentence in the young candidate's statement we agree with: "The people of the 13th district deserve a leader who is as resilient as they are."
Considering the district covers a broad swath of Detroit where so many young people have had few advantages, suffer crushing poverty, and still come out every day swinging, we're not sure how that argues for the stylish, globe-trotting young Conyers and his bid for office.