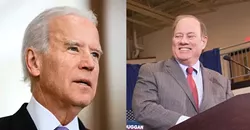 Former vice president and establishment Democrat Joe Biden has given Detroit Mayor Mike Duggan a ringing endorsement in time for today's mayoral primary in Detroit.
In a robocall Chad Livengood of
Crain's
says
went out to Detroit voters last night
,
Biden calls Duggan "a very good friend" and says that "no mayor in America has done a better job for their city than Duggan has for Detroit."
SCOOP: Ex-VP @JoeBiden recorded robo call for @MayorMikeDuggan that went out to Detroit voters tonight ahead of tomorrow's primary.
Listen: pic.twitter.com/SLVilrYBkH

— Chad Livengood (@ChadLivengood) August 8, 2017
Duggan is
going up against
seven challengers who are listed on the ballot and six additional candidates who are running as write-ins. He's expected to win the primary by a wide margin and go on to the November election along with challenger State Sen. Coleman Young Jr., the son of former Detroit Mayor Coleman A. Young. A Target-Insyght poll conducted two weeks ago found Duggan leading Young by
more than 30 percentage points
. It had the remaining candidates registering about zero support.
In the robocall paid for by Duggan's campaign, Biden champions the mayor for removing blight and helping improve the city's bus system.
"Recovery is starting," Biden says in the call. "I know Mayor Duggan won't quit until that recovery has spread to every Detroiter."
Duggan has
raised far more money
for his campaign than any of his challengers, with hefty donations coming from big banks, suburban developers, and corporate executives. As of the late July campaign finance filing deadline, Duggan had raised $1.6 million for his re-election and spent $1.2 million of it. To put that into perspective, Coleman Young Jr. had raised only $22,000.
You can read more about where Duggan's donations come from in
this comprehensive report by Motor City Muckraker
.