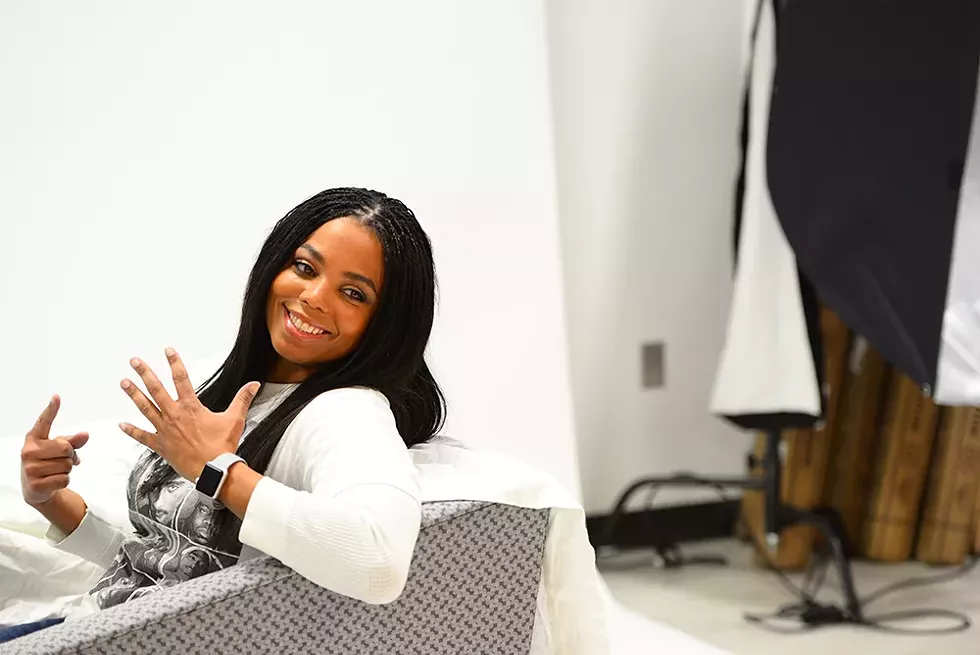 Last Wednesday night, ESPN correspondent and columnist Jemele Hill attended a private Nike event in Washington. D.C. For some journalists this would be an opportunity to rub shoulders with some of the best, well-dressed athletes in the league. For Hill, it was the perfect opportunity to grab a quick interview with NBA player Carmelo Anthony, who had been quiet amid a shaky offseason and had been traded for the third time in one year just hours before. Plus, her editors were expecting a story in the morning.
Anthony was just traded to the Atlanta Hawks, who were expected to waive him — rendering him a free agent likely to sign with the Houston Rockets. At the conclusion of the event, Hill saw Anthony, and the two, who have met before, began to chat. In a 10-minute interview, Anthony spoke candidly about his struggles over the past year, and his plans for the future — insider information that he hadn't said on the record with anyone else. Hill returned to her apartment around 11 p.m., wrote a quick news story and filed it for ESPN around 1 a.m., then woke up to turn it into a full column that was published in time to tweet out just as the timeline was waking up.
"The Hawks won't even be a sentence in Anthony's biography," Hill wrote in her column. "Melo is at a fascinating crossroads." In a way, she might as well have been writing about herself. Like Anthony, Hill is also at a crossroads — one that follows a year that saw her temporarily sidelined after speaking truth to power to none other than President Donald Trump (more on that later). This week, she returns to her hometown of Detroit for the National Association of Black Journalists' 43rd Annual Convention — where Hill is being awarded Journalist of the Year, and will be honored at a gala to mark the occasion.
"If you put the work first and concentrate on the craft, the rest should kind of fall into place," Hill says by phone.
At her core, Hill is a writer and a reporter. She looks up to Gary Smith, the award-winning Sports Illustrated features writer, and tries to emphasize storytelling as she keeps her hand on the pulse of the sports world. She loves the process of getting the scoop, turning it into a story, and sharing new information with readers — skills she's been perfecting since she was a high school intern at The Detroit Free Press. And even today, it's not the famous friends, Twitter followers (1.3 million), or even the awards that invigorate Hill. The late-night writing sessions that transform into full news stories and columns in a matter of hours are the moments that excite Hill the most, and it's the same feeling she was chasing when she began pursuing a career in sports journalism.
"There's a certain grind and a hustle and a rhythm to this job, and I've always been in love with that," she says.
Hill is a westsider who attended Detroit's Beaubien Middle School and Mumford High School (which in June renamed its auditorium in her honor). As a rising senior at Mumford, Hill was accepted into the Free Press' high school apprenticeship program — a six-week program that taught students the principles of journalism and linked aspiring journalists with mentors. She joined the National Association of Black Journalists during this time and attended the NABJ Convention in 1992, the last time it was held in Detroit. She later graduated from Michigan State University's journalism program, was a Free Press sportswriter from 1999 to 2005, and became an ESPN columnist in 2006.
Although the sports world is predominantly male-driven, Hill cites pivotal encounters with female writers who inspired her to pursue a career in sports journalism. Johnette Howard, a sportswriter for the Free Press, was Hill's mentor during the high school apprenticeship, taking Hill to her first Lions practice while Howard was working on a profile of former Lions coach Wayne Fontes. Later, she recalls meeting Claire Smith, a sportswriter who Hill admired while she was developing an interest in journalism and reading the daily newspapers to keep up with her favorite teams and players. Hill, who had only seen Smith's byline in The Philadelphia Inquirer, didn't know Smith was a Black journalist and shyly introduced herself.
Hill says women like Smith and Howard made her career goals more tangible. "I knew it was kind of unusual for someone who looked like me and was from where I was from to have that kind of trait," she says. "Thanks to early mentorship and being exposed to newspapers early, it was something I thought was possible, so I did everything I could to make sure that this was a dream that actually came true."
'I had very simple goals. They weren't about destination or place. It was about being good.'

tweet this
Now, Hill is no longer shadowing the heavy-hitting writers — she is a luminary in the sportswriting world in her own right. For many, she stands as an anomaly — a news reporter with a personality, a Black woman in sports broadcasting, a mediamaker with an opinion, a businesswoman who knows how to have fun.
"This is a story I could not even have written or conceptualized," she says of the NABJ's Journalist of the Year honor. "When I signed up to be a member in 1992, I never thought that my career would come full circle where, fast-forward 20 years later, I'd be getting one of the most prestigious awards an organization gives in the company of not only journalists I admire, but my friends and family and the city that truly raised me. So, this is special. I still don't think I've quite processed it yet."
Hill is extremely grateful when it comes to her accolades, responding to her accomplishments with the same awe as the masses. But she isn't fazed by the pressure or the chatter — she's focused on her job. After all, that's what has gotten her this far.
"I had very simple goals," she says. "They weren't about destination or place. It was about being good."
One of the more controversial points in Hill's career came last September at the hands of Mr. Twitter Fingers himself — Donald Trump — while Hill was serving as a co-anchor for ESPN's flagship show, SportsCenter.
In a series of tweets in September last year, Hill wrote that "Donald Trump is a white supremacist who has largely surrounded himself [with] other white supremacists." "The height of white privilege is being able to ignore his white supremacy, because it's of no threat to you. Well, it's a threat to me," she continued. "Trump is the most ignorant, offensive president of my lifetime. His rise is a direct result of white supremacy. Period."
Donald Trump is a white supremacist who has largely surrounded himself w/ other white supremacists.

— Jemele Hill (@jemelehill) September 11, 2017
The tweets drew swift condemnation from the White House, with press secretary Sarah Huckabee Sanders saying, "That's one of the more outrageous comments that anyone could make and certainly something that I think is a fireable offense by ESPN."
ESPN shortly after issued a statement, saying that the comments "do not represent the position of ESPN" and that Hill "recognizes her actions were inappropriate." But Hill refused to apologize, stating that the opinions were her own.
"My comments on Twitter expressed my personal beliefs," she wrote in a statement. "My regret is that my comments and the public way I made them painted ESPN in an unfair light. My respect for the company and my colleagues remains unconditional." The NABJ also issued a statement in defense of Hill, saying it "supports Hill's First Amendment rights on all matters of discussion, within and outside the world of sports, as they do not impinge on her duties as a host and commentator. "
The next month, Hill was once again in hot water for speaking truth to power after suggesting that fans upset with Dallas Cowboys coach Jerry Jones' threat to bench any player who protested by kneeling during the national anthem should boycott the team's advertisers. ESPN suspended Hill for two weeks for a "second violation of our social media guidelines." Trump even attacked her on Twitter, writing, "With Jemele Hill at the mike [sic], it is no wonder ESPN ratings have 'tanked,' in fact, tanked so badly it is the talk of the industry!" But it wasn't over for Hill. ESPN then moved her to a new role as a columnist for The Undefeated, a new vertical covering the intersection of sports and culture, where Hill has continued to write on the topic of race.
With Jemele Hill at the mike, it is no wonder ESPN ratings have "tanked," in fact, tanked so badly it is the talk of the industry!

— Donald J. Trump (@realDonaldTrump) October 10, 2017
Hill admits that the whole situation was surreal, but seems chill about joining the ranks of what she terms "a special club" of people who Trump has called out on Twitter. If an angry tweet from the president and a stream of headache-inducing replies are the signs of media success, then Hill has that, too.
The flack that Hill has received for these two incidents doesn't seem to be as earth-shattering for Hill herself. It's a result of the years of journalism training and reporting that she has practiced for over two decades now.
"The things that make for a good journalist — or for that matter, make for good journalism — they've never changed since the craft was invented," she says. "This is still a profession where journalists are charged with holding people accountable, where you have to gather information and build sources. None of that has changed from when I started learning what journalism was about until now."
Hill is in high demand right now, so there aren't too many big baller shot caller rooms in the sports or media worlds that she can enter without knowing most of the people in them. When we ask her to describe her dream interview, she gives the hypothetical Hill a night off and spins the scenario into a leisurely hangout, with dinner, wine, and some of the biggest names out right now — many she has yet to interview. The guest list includes Beyoncé (who she actually once interviewed while she was a features editor at the Free Press), Mary J. Blige, Serena Williams, Michelle Obama, Oprah (who she wants to drink tequila with), and Rihanna (although Hill says she isn't much of a smoker, she would smoke with her). She says she also would like to have Cardi B as a life coach.
If she can find time to chill out while she's in Detroit, she says there are about 70 Detroit restaurants that could be on her must-visit list. An abridged version includes Golden Bowl Chop Suey on Six Mile, coney dogs from either American or Lafayette (apparently she's a free agent), Sweetwater Tavern for catfish (and a quick visit to the owner and her favorite bartender, Carol), a corned beef sandwich from Lou's Deli, a stop at Starters, or even a drive through White Castle, which is hard to come by in her Washington, D.C., home base.
And even amid the whir of temporary Twitter scandals, press appearances, award shows, speeches, and panels, Hill says she would much rather be behind the pen or the camera than in front of it. In fact, Hill and her college BFF Kelley L. Carter (a fellow Detroiter also at The Undefeated) launched a production company last August that they say will play a major role in the next phase of their careers.
Even though Hill has a clear plan for the future, she says she's in no rush to leave ESPN — she says she has "unfinished business" there. "It would be foolish of me not to think of what else is possible for me beyond ESPN because of my personal desires and things I still wish to accomplish," she says. "I know that whenever I kick off the next iteration of my career, it will involve me getting more deeply involved in producing original content. There are avenues opening up for women of color to provide different perspectives that's something we really wanted to take a hard look at."
After plenty career pivots and accolades, Hill says she's at the happiest and most comfortable point she has ever been in her life. Hill is returning to Detroit wholly changed, but completely herself — she is certain, honest, and ready to conquer the next play.
The National Association of Black Journalists Convention and Career Fair is Wednesday, Aug. 1 through Sunday, Aug. 5. More information is available at nabjconvention.com.
Stay on top of Detroit news and views. Sign up for our weekly issue newsletter delivered each Wednesday.