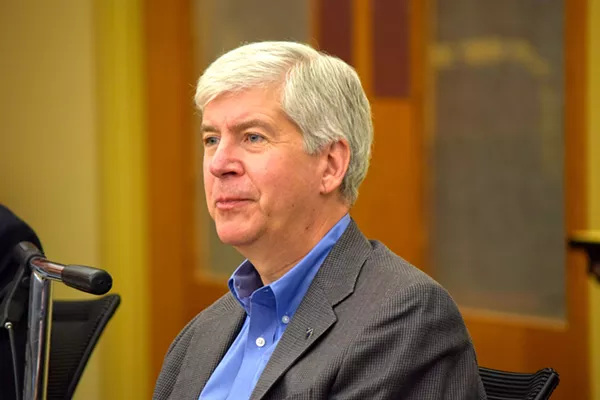 With just days left in office, Gov. Rick Snyder now has 300 bills to consider signing in to law following the lame duck legislative session. Among those are bills meant to weaken the power of the incoming Democrat officials — part of a GOP power grab seen in other states that experts
say could very well be unconstitutional
.
We think things must be pretty fucked when even the GOP cheerleaders over at
The Detroit News
are saying, "Whoa now, wait a minute."
In a column published Thursday, the paper's editorial page editor Nolan Finley writes that
"Snyder should veto Legislature's power grab."


"Legislative Republicans used the lame-duck session to push the limits of their constitutional authority," Finley writes. "Gov. Rick Snyder should use his veto pen to keep policymaking in its proper lane."
In a rare moment, we agree with Finley here. But his plea feels too little, too late.
This is after years of the paper using it's editorial pages to boost the governor's worst policies. Take, for example, its
poorly timed assertion that
the emergency manager law works
— the same emergency manager law that had just poisoned Flint. Or look at its
call to punish Detroit Public Schools faculty
who were protesting the district's deplorable conditions, ignoring the fact that the district was at the time under Snyder-appointed emergency management.
In fact, Snyder has presided over a number of unpopular moves meant to seize power for his party, from the Republican-drawn gerrymandered legislative maps that rigged elections for GOP (which Michiganders rejected in November) to establishing that emergency manager law in the first place (which voters rejected in a referendum; Snyder tweaked the bill and passed it anyway).
At this point,
The Detroit News
asking Snyder to consider the people is like Doctor Frankenstein trying to stop his monster.
Among the bills Finley mentions are one that would allow the Legislature to usurp authority from Democrat Attorney General Dana Nessel. Another would prevent the state from imposing environmental rules that are stricter than federal requirements.
Of course, we don't know what Snyder will do. "We have reached this really interesting period, partly because this governor is a bit of an enigma, especially to this Legislature, but also because of the sheer volume of bills that were passed," Democratic consultant Adrian Hemond told the paper in
another story
. And to be fair, Snyder has already vetoed four bills. One would have allowed the auditor general access to confidential information in state agencies; Snyder called the bill "an unconstitutional overreach" that would blur the line between "the legislative and other branches."
Still, we just don't have a lot of hope for a guy who bills himself as "One Tough Nerd" to have much of a moral compass here — at least from what we've seen so far.
Maybe Snyder has one last chance to surprise us.
Stay on top of Detroit news and views. Sign up for our weekly issue newsletter delivered each Wednesday.