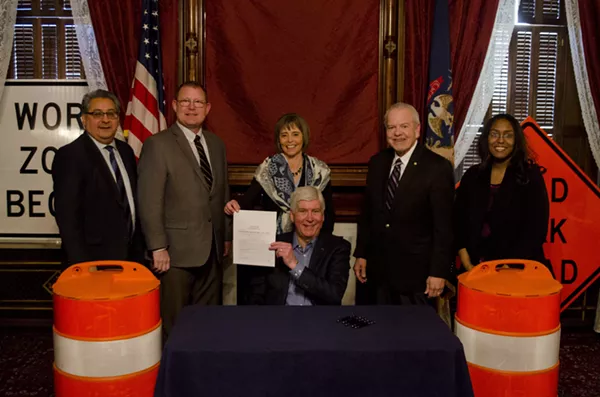 As anyone in Michigan who has set foot outside lately can attest, our roads suck. Thanks to early thawing, potholes have rapidly multiplied — so much so that the American Society of Engineers recently
gave our state roads a D-
grade on its latest annual infrastructure report card.
The problem is so dire that Gov. Rick Snyder signed an extra $175 million in spending for roads and transportation projects Tuesday morning — funding that was originally intended for 2019, but Snyder decided to prioritize. The governor even had the state Capitol decorated with orange construction barrels and road work signs for added effect.
The spending plan will be distributed among all 83 Michigan counties and 533 cities and villages based on population. However, for some Michigan lawmakers, the sum amounts to too little, too late.
Macomb County Executive Mark Hackel took the opportunity to sound off on the state of the roads, and the state of the government.
"It's nothing, but we'll take it," Hackel said of the $4.48 million his county is slated to receive under the spending bill, according to
The Detroit News
. Previously, Hackel had written state lawmakers a letter warning that the proposed sum would be "woefully inadequate."
Hackel said his own county would need "well over a billion" dollars to fix its roads and bridges, adding the problems were more extensive than just filling potholes.
He also said the problem is not Michigan's thaw, but on inept lawmakers.
"This is an unbelievable situation the state has put us in for decades," he said. "Unfortunately, this Legislature owns the problem. To say $175 million and celebrate that as a fix is disingenuous. ... It gives an impression they're solving the problem, but in reality, it's not even close. It's almost embarrassing."
According to the governor, Michigan's transportation budget is expected to reach about $4.5 billion in 2018, up from $3.6 billion in 2011. Snyder said he would support an increase in the federal gas tax as a way to finance infrastructure improvements,
as has President Donald Trump
.
"We all need to be part of the solution, not one single party," Snyder said.
Stay on top of Detroit news and views. Sign up for our weekly issue newsletter delivered each Wednesday.