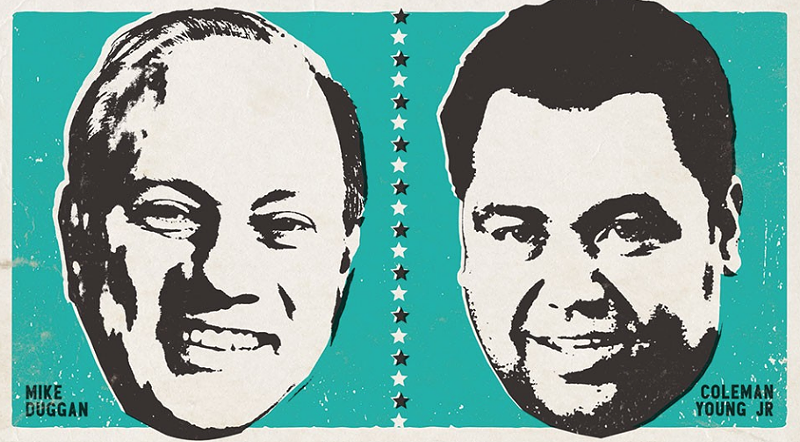 Detroit Mayoral Election:
Detroit Mayor Mike Duggan faces challenger State Sen. Coleman Young II, son of Detroit's first black mayor. Throughout his campaign, Young has aimed to draw attention to the massive problems that continue to plague the city as certain areas enjoy a revival, pointing to the city's sky-high poverty rate, continued water shutoffs, and high crime.
Duggan, meanwhile, has highlighted the improvements made during his first term. Basic city services have been restored and businesses are coming to Detroit, bringing tens of thousands of jobs and spurring new development. The changes have helped slow the city's decades-long population slide.
In the August primary, Duggan received more than 67 percent of the vote to Young's nearly 27 percent.
Detroit City Clerk:

Detroiters will decide whether
problems with last year's election
are enough to vote
Detroit City Clerk Janice Winfrey
out of her role. Winfrey, who is seeking a fourth term, is facing a tough challenger in
Garlin Gilchrist II
, former technology director for civic community engagement in the Duggan administration and the former national campaign director for Moveon.org.
Gilchrist has said he will bring more transparency and accountability to the role of clerk, and that Detroiters "can't afford to have our voting process not work for us." He has also said he wants to expand voter participation.
Winfrey has described her office as being transparent and having a
"high level of integrity,"
according to the
Detroit News
. She lists cleaning up the city's voter rolls and letting voters cast absentee ballots at satellite locations 30 days ahead of elections among her accomplishments.
Detroit City Council Races:
All of Detroit's city council candidates are up for re-election. The majority won their primaries decisively, but at least two races could be close.
District 2:
Council President Pro Tem
George Cushingberry Jr.
was the only city council member who didn't make it onto the general election ballot following the primary.
Finishing just in front of him were former Detroit police officer
Roy McCalister Jr.
and
Virgil Smith
, the former state senator who resigned after pleading guilty to shooting his wife's vehicle in 2015. According to the
Detroit News
, Wayne County prosecutor Kym Worthy has charged that Smith's plea agreement should
bar him from holding public office
, an issue that will eventually make its way to the Michigan Supreme Court.
We were unable to reach Smith to hear why District 2 voters should elect him. McCalister Jr., in a candidate questionnaire, said he would "limit the number and place strict regulations on Medical Marijuana Dispensaries" in Detroit. He would also seek to expand affordable housing while bringing new development to his district.
Cushingberry, who is running as a write-in, says on his website that he wants "to restore the losses to [sic] city retirees took under the bankruptcy." He has also expressed a commitment to raising literacy rates.
District 5:
Longtime Wayne County Commissioner Jewel Ware faces off against incumbent Mary Sheffield in a race that was without a primary.

Sheffield, who was behind a pair of recently passed affordable housing ordinances, has emerged as one of the more progressive council members in her first term in office. One of the ordinances, which holds developers to providing affordable units for people at certain income thresholds, pitted Sheffield against the mayor's office as she sought to push developers to create units for lower-income people in a move the city viewed as a detriment to development.

According to the
Detroit News
, Ware has been on the Wayne County Commission for more than 20 years, serving as its chair for five of them. Ware tells the daily paper she wants to focus on keeping the city's budget intact and eliminating waste. She also wants to bridge the gap between Detroit residents and city services.

Michigan's 1st House of Representatives District, special election
:
Three challengers are vying for the seat left vacant early this year by Democrat Rep. Brian Banks, who resigned after pleading guilty to lying about his income on a loan application in 2010. The seat covers Harper Woods, Grosse Pointe Woods, Grosse Pointe Shores, and an eastern portion of Detroit.
Tenisha Yancey
(D) — A member of the Harper Woods school board and a former Wayne County prosecutor. On her website, she says she will "fight for affordable health care, quality education, economic development, job creation."
Mark Corcoran
(R) — According to the
Free Press
, he is a home contractor from Grosse Pointe Woods who describes himself as a Tea Party activist. He told the paper he would not raise or spend more than $1,000 for his campaign.
Gregory Creswell
(L) — Creswell is a medical records clerk who says he's been with the same company for more than four decades. As per his website, he wants your vote so he can "defend individual rights and the free market," "repeal the no-fault [insurance] law," and "reduce the power, control, and access to our income by politicians."
Other races to watch:


- Detroiters will vote on
two marijuana proposals
that would loosen marijuana restrictions in the city.
-
Hamtramck
residents will decide whether to re-elect longtime Mayor Karen Majewski, of polish descent, or replace her with Mohammed Hassan, who would be the ethnic enclave's first Muslim and Bangladeshi-American mayor.