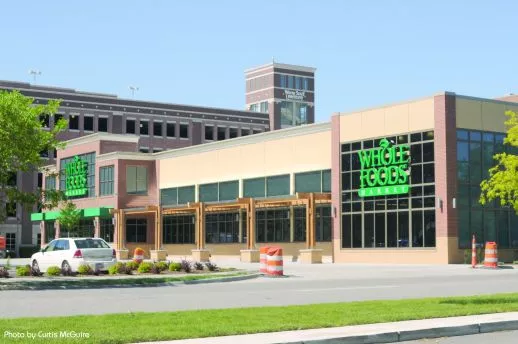 In April of 2012, when Walter Robb, the co-CEO of Whole Foods, spoke to the Milken Institute Global Conference, he made some rather ambitious statements on the company's goal with its new Detroit location.
"We've tried to put the community first in this effort,"
Robb said
. "I know that we're learning as much as we're giving. Not only are we going after the affordability and the accessibility ... we're going after these hard issues. Because we're going after elitism, we're going after racism. Detroit's 90 percent African-American."
How has the company fared on that goal? Tracie McMillan, a senior fellow at the Schuster Institute for Investigative Journalism at Brandeis University, tackles
the subject in a lengthy piece at Slate
that was produced in collaboration with the nonprofit Food & Environmental Reporting Network
(FERN)
. In essence, Robb's goal was to reach all Detroiters, McMillan says. Two of the biggest concerns? Price, and, as McMillan put it, the company's ability to persuade new customers that what Whole Foods believed was a healthy diet was worth shopping at the Detroit store.
Food & Environment Reporting Network (FERN)
"To succeed at Robb's goal of reaching all Detroiters—whether for idealistic reasons of equity, or savvy ones of expanding its customer base—Whole Foods needed to do more than just turn a profit," McMillan, a former (unofficial)
Metro Times
fellow, writes. "It needed to persuade a new kind of customer that what it sold—local, organic, and sustainable—was worth seeking out. It needed, in other words, to change the food culture among the poor (or at least poorer), just as it has done among the affluent."
It's a compelling, balanced read, which covers the entire scope of Whole Foods decision to open up shop here (including the city's controversial decision to dole out nearly $6 million in public subsidies and private grants to make it happen), so carve out some time today to check it out.
McMillan is the author of "The American Way of Eating: Undercover at Walmart, Applebee's, Farm Fields and the Dinner Table."
MT
Managing Editor Michael Jackman interviewed McMillan
on the heels of her book's release back in 2012
. An analysis of the data can be found on FERN's website
here
.