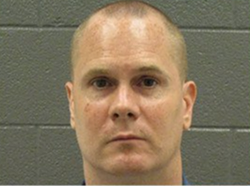 Rick Wershe aka 'White Boy Rick' has been in prison for nearly thee decades for a non-violent drug crime. And like all crazy historic events in the world, Hollywood started paying attention.
According to
The Wrap
, award-winning producers, Darren Aronofsky and Scott Franklin (
Black Swan, Requiem for a Dream
) are trying to make a movie based on Wershe's long and seemingly endless struggle to get released from prison.
Perhaps the movie will force people to pay attention to Wershe and the criminal justice system, or maybe Wershe will already be released during the premiere, but no one's getting their hopes up.
Wershe was sentenced in 1988 at the age of 17 to life in prison without parole on cocaine trafficking charges, after a prolific career as a rising young drug kingpin who was an FBI informant.
After changes in drug sentencing laws, Wershe became eligible for parole, but has been denied every time, including most recently in 2012. His re-sentencing appeal earlier this year
was also denied
.
As Vince Wade, a former investigative reporter for WXYZ and Fox 2 who now runs
Informant America
, described as "a blog about the shadowy world of law enforcement informants," wrote, the Wershe story is "much more than a story about a white teenage dope dealer in the black underworld. It is every bit as much a tale about police criminality, political corruption and what appears to be a decades-long vendetta, a dark and chilling conspiracy within the criminal justice system against a teenager who dared to help the FBI put politically-connected dope dealers and corrupt cops in jail."
His blog points fingers all over the place, including interestingly enough, Mayor Mike Duggan and Governor Snyder, and is worth a look.
Sounds like a story fit for the Hollywood treatment to us.