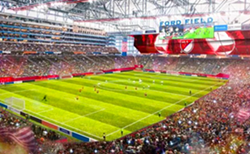 Major League Soccer officials getting set to expand the league to two cities appear to have signaled their preference for a now-scrapped plan that would have created a new stadium for a possible Detroit club.
News broke yesterday that Pistons owner Tom Gores and billionaire Dan Gilbert had amended their application for an MLS franchise to include the Ford family. Under the new plan,
Ford Field
would be the location where the potential soccer team would play, putting an end to plans for a $1 billion, 23,000 seat soccer facility and mixed-used development at the site where a partially built Wayne County jail sits.
In response, MLS officials issued a statement saying that, while they had "tremendous respect" for the team owners involved in the bid, they would not comment specifically on the new plan because they hadn't had time to evaluate it.
Then came the sting:
"MLS continues to prioritize soccer-specific stadiums for the selection of MLS expansion markets."
Some existing MLS teams, like the Seattle Sounders and Atlanta United, play in football stadiums. An architectural firm has said Ford Field could too be reconfigured to meet MLS standards.
Thursday's statement wasn't the first time the league had indicated it would prefer to see a new stadium at the Gratiot site at the center of a
complicated land swap deal
between Gilbert and local officials.
"I like both locations, but I really like the jail site," commissioner Don Garber told the
Free Press
in May, without specifying the other location to which he was referring (Gratiot Avenue was then the only site for play listed in Detroit's MLS application). "If I were a resident of Detroit, I would probably rather have a soccer stadium as a gateway to my city, rather than a jail. I hope they continue to make progress with that concept."
To be fair, "they" — or, at least, Gilbert — will
continue to make progress with
a
concept for the fail jail site. With the land swap deal nearing finality, Rock has indicated it will proceed with plans for a mixed-use development at the site.
"From the time we started working on the Gratiot site, we have always been focused on the importance of a great mixed-use development at the gateway to downtown Detroit, soccer was just a potential component of our vision," Matt Cullen, principal for Gilbert's Rock Ventures, said in a statement.
So even if the altered plans diminish Detroit's chances for scoring a Major League Soccer team, Detroiters can rest assured knowing that there will, at the very least, be more downtown retail and residential development to come.
The MLS is expected to announce two expansion franchises by the end of the year that will begin play by 2020. An additional two cities will be announced some time after that. A dozen cities are in the running