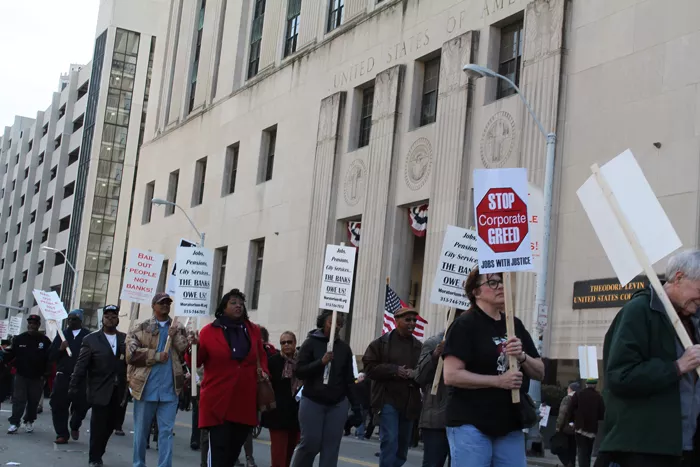 Keith Davis, speaking before a group of lawmakers who could determine his future, explained why he opposes a plan that would help settle Detroit's historic bankruptcy.
A retiree who worked 31 years in Detroit's water department, Davis said the $195 million one-time infusion of cash from Michigan's rainy-day fund doesn't do enough to ameliorate the cuts pensioners face under the city's currently proposed bankruptcy-exit plan, called a "Plan of Adjustment."
"Our choice is the deep blue sea with a heavy stone around our necks, or burning in hell," Davis told the five members of the newly formed state House committee on Detroit's Recovery and Michigan's Future last week.
"I'd rather go down swinging."
Davis' remarks fell on the House committee's third day of hearings regarding the $195 million settlement, the last piece needed to allow an $816 million so-called "grand bargain" to move forward. The unprecedented proposal seeks to shore up Detroit's pension funds and save the Detroit Institute of Arts' collection from a possible fire sale in bankruptcy court.
If the state legislature ultimately rejects the plan, a pledged $366 million from foundations and $100 million from the Detroit Institute of Arts would likely vanish, Detroit Emergency Manager Kevyn Orr told the panel earlier in the week.
Without the money, by Orr's estimate, the cuts would be drastic: Detroit police and fire retirees who receive an average $30,000 annual pension would be cut to around $20,000 per year. For general retirees, an average $19,000 a year pension could fall to around $12,000. Besides that, the Detroit Institute of Arts' collection could be sold off, with the proceeds being split evenly among all creditors, not just pensioners, Orr said.
(Under municipal bankruptcy law, a city can't be forced to sell its assets, like the DIA's collection. But, if the grand bargain vanishes, or Judge Steven Rhodes rejects Orr's bankruptcy-exit plan, the emergency manager could be forced to sell art.)
That's why the $816 million proposal has captured national interest. It's a remarkable deal to potentially settle an unfortunate situation.
The genesis of the deal happened during negotiations with Detroit's creditors last fall, when Detroit's bankruptcy was green-lighted. That's when U.S. Bankruptcy Judge Steven Rhodes ruled pensions could be impaired. To lessen the blow to pensioners, a federal mediator appointed to the case quickly crafted the beginnings of the proposal, which would also transfer the DIA from city ownership to a new nonprofit.
But, even with the infusion of $816 million, the Plan of Adjustment submitted by Orr still implements cuts to pensions — call it a "modest bargain."
General retirees, who on average receive a $19,000 annual pension, would take a 4.5 percent trim, with their cost of living adjustments (COLA) wiped out. Police and fire retirees, who on average receive a $30,000 annual pension, would take no cuts to their monthly checks, but their COLA would be reduced to about 1 percent, down from about 2.25 percent.
And, for some, the hit may be steeper: The city is proposing to "claw back" almost $230 million from roughly 4,800 general retirees who received interest payments from its pension fund, according to bankruptcy court documents. The blow to those retirees could tack on an additional 15 percent cut to their monthly checks.
That's why Davis and other retirees who spoke before the House committee said they would rather fight for their right to a fully funded pension, as enshrined in Michigan's constitution. An appeal on Judge Rhodes' ruling that Detroit is eligible for bankruptcy was granted by the U.S. 6th Circuit Court of Appeals, but has yet to be heard. If the state approves the $195 million settlement and Rhodes approves Detroit's bankruptcy-exit plan, that appeal would likely be dropped.
But consider this: What if the grand bargain isn't even legal? Can the state, DIA, and foundations actually pump more than $800 million into Detroit's coffers solely for the benefit of pensioners — nearly making the funds whole — while some of the city's bond insurers stand to recoup 10 to 20 cents on the dollar?
Perhaps surprisingly, the answer is entirely unknown. The novel municipal bankruptcy code makes it almost impossible to determine, leaving most outcomes of Detroit's historic case open to conjecture.
The test, bankruptcy experts say, is that a Plan of Adjustment cannot unfairly discriminate against a class of creditors, and it must be in the best interests of all creditors.
Orr's team clearly believes the law allows the $816 million to be funneled into one purpose, in Detroit's case, to boost pension funds.
Bond insurers, who stand to lose hundreds of millions of dollars under the bankruptcy-exit plan, believe the law says otherwise.
And with so few cases guiding Rhodes in his decision making process, both sides have a legal argument to make, bankruptcy experts told Metro Times.
The most publicized assertion that Detroit's grand bargain was potentially illegal came earlier this month in a Washington Post op-ed written by David Skeel, a bankruptcy law professor at the University of Pennsylvania.
The deal would solve two "very big problems," Skeel writes, by addressing the pension fund concerns and salvaging the DIA collection from a potential sale.
But, he tells Metro Times in an email, the grand bargain poses a number of problems: Detroit's bankruptcy-exit plan might "unfairly discriminate against a class of creditors" and doesn't appear to be in the "best interest of all creditors."
Skeel says the "best interests" clause would be violated because some of Detroit's creditors will recoup less under the bankruptcy-exit plan than they would have "in the absence of bankruptcy." He also says Detroit unfairly discriminates against a group of creditors because the grand bargain gives a higher return for pensioners, while some bond insurers might receive just 10 cents on the dollar.
"The disfavored creditors have a good argument this is the case," he says.
Skeel agrees there are fair arguments that Orr's bankruptcy-exit plan is permissible. "But … I think the plan in its current form is discriminatory," he says. "This isn't a prediction that the court won't approve the plan in essentially the same form [this] summer, just a statement that I think the current plan is problematic."
Laura Bartell, a law professor at Wayne State University, disagrees with Skeel's assessment.
"There's nothing in the bankruptcy code that says you have to treat all the claims in a particular class the same," she tells Metro Times, adding, "That's why there's the requirement that you can't discriminate unfairly of a dissenting class."
The latter point, she explains, is why the definition of "unfair discrimination" is important to consider. Unlike bondholders and insurers, pensions are protected under Michigan's Constitution, and those retirees have "fewer resources."
But, she says, a definition of "unfair discrimination" or "best interest" can mean "whatever the judge says it means."
The complexity of the situation explains why some bond insurers have gone as far as asking Rhodes to allow them to remove art from the DIA's walls to appraise certain works. Those insurers previously solicited bids for the museum's art, saying Detroit could generate more money to repay debt claims. Rhodes ultimately rejected that request, but left the door open for them to continue arguing the merits of their claim in the coming months.
Nonetheless, the contentious uncertainty of the grand bargain doesn't surprise Frank Shafroth, public and international affairs professor at George Mason University. Shafroth would know how unclear federal law is guiding the process in Detroit: In 1988, he helped revamp the bankruptcy code to offer more guidance in cases that involved insolvent municipalities.
Shafroth tells Metro Times that Judge Rhodes and other judges overseeing municipal bankruptcies in California are "exploring how we adjust this federal, inscrutable law to reality, and to the different circumstances that are occurring."
Shafroth is reminded each day of that inscrutable law: The two-page document he helped craft in the 1980s is framed on his office wall, a daily reminder of what he was trying to accomplish, and the uncharted territory Detroit is exploring in bankruptcy.
"We had a period of being bare naked because we didn't really have any law that said if the city was insolvent it had a remedy," he says. He sought to update the terms of Chapter 9 bankruptcy because, unlike corporate cases, which allow a company to completely "go out of existence … you have to find a way to make sure that next 911 call is dealt with," he says.
The problem, though, is the amended law he helped construct didn't take into consideration large cities like Detroit going insolvent.
"We were thinking of a single thing," Shafroth says, such as a school district, "where a big strike could plunge you into insolvency, but you had to continue operating. We never, never thought it would impact a major city like Detroit."
So the bond insurers arguing the DIA collection should be monetized to the fullest extent have a fair legal argument, Shafroth says. New ground is being carved in Detroit. For that reason alone, federal bankruptcy law will be "very different" three years from now, he says. By then, the answer to the legality of proposals like Detroit's $816 million "grand bargain" will be clearer.
But the question of the proposal's legality will likely be irrelevant if the state legislature ultimately rejects its $195 million settlement in the coming weeks.
If lawmakers sign off on the deal, though — and the bankruptcy is uncontested by an appellate court — it'll be up to Judge Rhodes to decide if Detroit's bankruptcy-exit plan is in the best interests of all creditor groups. It's essentially up to him to decide if the grand bargain passes muster; if Detroit can, in fact, solely appropriate that money to the retirees' benefit.
"My view from the beginning [has been] Judge Rhodes was going to be writing a lot of the municipal bankruptcy law," Shafroth says. "He's got to fill in the spaces that no one in 1988 could've anticipated or understood."