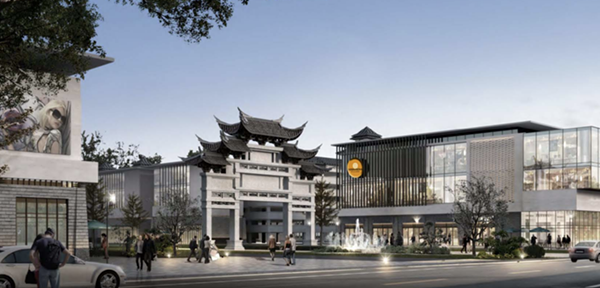 An independent attorney hired by the Ypsilanti City Council to investigate a
scandal around a proposed Chinese development
is recommending the case be turned over to the prosecutor's office for further investigation and possible criminal charges.
A report released to Ypsilanti city officials and obtained by
Metro Times
on Wednesday afternoon suggests council turn over investigations into Ypsilanti Mayor Amanda Edmonds, former city economic development director Beth Ernat, and Troy-based real estate agent
Amy
Xue Foster.
officer
in
discharge
of duty charges against Foster under
MCL 750.117
and
MCL 750.479
, respectively.
But Plato's recommendation is just that — a recommendation. City council will have to decide whether to turn information over to the Washtenaw County Prosecuting Attorney Brian Mackie would have to pursue charges.
The scandal surfaced after Foster proposed in May a $300 million project she initially billed as a "Chinatown" but later rebranded as "International Village." The mixed-use development would have been built on 28 acres of vacant city-owned land called Water Street that's adjacent to downtown Ypsilanti, and it would have largely catered to wealthy Chinese students.
As part of the proposal, Foster suggested on May 23 flying city officials to Beijing later in the year to learn about Chinese culture and see the type of architecture that would be replicated in Ypsilanti. On May 24, Ypsilanti City Attorney John Barr told city officials that it would be "illegal and unethical" for them to take a trip funded by Foster, emails obtained by
Metro Times
show.
They left for the 12-day trip on Sept. 21 with other city officials and the public believing that the WSU student association paid for the trip.
A Metro Times investigation into the funding source
published on Sept. 27 found that it did not. That led to an investigation into the funding source by the Ypsilanti City Council, which hired Plato's office to conduct its own independent investigation.
On Friday, Plato released his findings to
city
council, which
Metro Times
obtained through a Freedom of Information Act request. A detailed 26-page timeline of events Plato produced illuminates the lengths to which the scandal's players — specifically, the developer and Ernat — went in order to cover up the funding source. Between airfare and other expenses, the cost is estimated at around $40,000.
It also shows how Ernat repeatedly lied under oath and misled the public in the months leading up the trip, as well as during the investigation. Though Plato doesn't provide definitive proof that mayor Edmonds lied about her knowledge of the funding source, he casts serious doubt on her claim that she was unaware that Foster paid for the trip. He also noted that Edmonds didn't appear concerned with whether she acted appropriately.
Mayor Amanda Edmonds
In the recommendation, Plato casts doubt on Edmonds' claim that she didn't know who funded the trip, and details multiple instances that likely alerted her to the true funding source.
Plato suggests
council
pursue several options:
Economic development director Beth Ernat
Amy Foster and Jingmin Liang
Other officials
Plato is not recommending any further action against the scandal's other players:
We're seeking comment on what's next from city officials and other community
members .
Stay on top of Detroit news and views. Sign up for our weekly issue newsletter delivered each Wednesday.