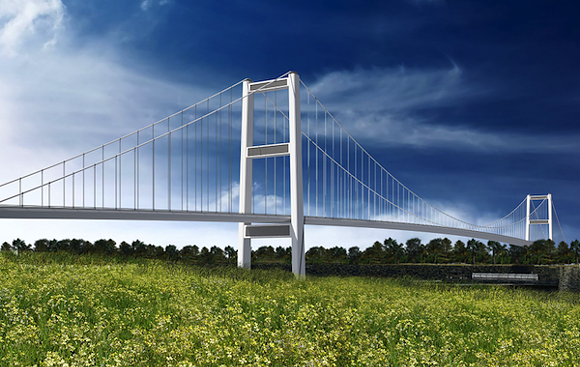 Just the other day, we were laughing about a commercial designed to sell
a neighborhood that doesn't exist
. But, hey, maybe that's normal now.
After all, we hadn't considered it much, but didn't former President Barack Obama get a Nobel Peace Prize after being in office for a week or so? (You know, before he had time to end all the wars abroad, or at least start a few new ones?) Sometimes those early honors can be a bit dicey, but if it's good enough for the Norwegian Nobel Committee, who are we to argue?
But if it doesn't make sense to you, the it's best explained by an old adage from the advertising business: You sell the sizzle, not the steak. Maybe we should embrace the trend instead of fight against it, provided we understand that awards now are for intentions as much as achievements.
For instance, we were ready to turn our guns on the fact that the Gordie Howe International Bridge, coming soon to a river near you, received the 2017 Engineering Project of the Year Award last week at the 10th Global Infrastructure Leadership Forum in Montreal.
But it turns out that there
is
work being done. Yes, the rendering is still a conceptual image, and no they haven't started work on the bridge itself, but there is a lot of groundwork toe be done before the span rises. The bridge-builders need to build the inspection plazas on both sides, and on the Canadian side that project is has already done $150 million of work, burying aerial wires and cables, laying 178,000 tons of fill, planting acres of seed and mulch, placing 110 new utility poles and connecting almost two miles of new sewers. It's what you might call "advanced preliminary construction." On the American side, they're still at work, too, though mostly on surveying and property acquisition.
So, while it hasn't been built yet, it's being built. And while the spokesperson we talked to didn't come out and say it, the fact that the authority has done a great deal of preparatory work on this massive job makes the "engineering project of the year" thing legit. Or so they have persuaded us.
(We'd like to take this opportunity to remind any awards committees out there that we have several unpublished novels in our files that are rip-roaring reads. They simply haven't been "fully published" yet. Just sayin')