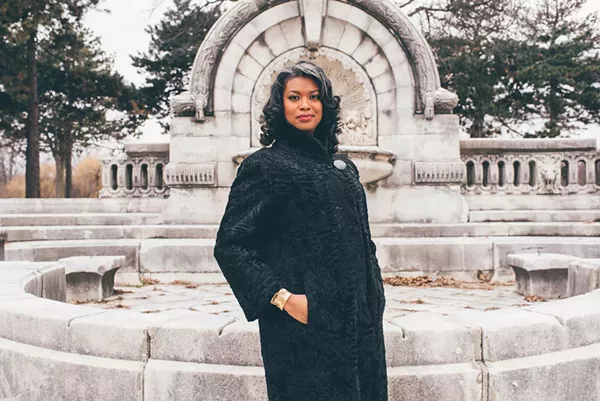 When Ingrid LaFleur officially announced her campaign for mayor of Detroit at the ONE Mile art space in February, it was almost certain to be the first time in the city's history that such a speech was part of an evening of entertainment involving electronic music DJs and an illuminated sculpture of a UFO. At the event, LaFleur and a small group of volunteers dressed in bold red blazers mingled with attendees, collecting signatures and registering voters. After giving her speech, LaFleur made her first campaign promise: "I'll see you on the dance floor!"
The crowd that packed the art space was young and, most notably, equal parts black and white — a rarity in this still-segregated city. And that ability to bridge that divide could be the key to LaFleur's success. "I'm tired of the distraction of the 'Two Detroits,'" she says when we meet up later. "So how do you move beyond that? We have to have these kind of cross-spatial dialogues."
Though it's LaFleur's first time involved in politics, her name is well-known in Detroit's art scene. The 39-year-old (instantly recognizable by the shock of silver in her hair) is the founder of Afrotopia, a group dedicated to the Afrofuturism art movement, or science fiction and fantasy based on the black experience. Through Afrotopia, LaFleur has curated film festivals, a book club, meditation sessions, and an archive of Afrofuturist work.
A born-and-raised Detroiter, LaFleur says she grew up in Palmer Woods. After her parents divorced, she says she split her time between Lafayette Park, Midtown, and the east side. "I'm a rare Detroiter in that way, that I've bounced around in different areas of Detroit," she says. "So that's why I always say that I have love for the entire city."
After graduating from Renaissance High School, LaFleur left for Atlanta to study art history at Spelman College, and graduate school at New York University. After grad school, she stuck around New York City, working for galleries and museums.
LaFleur says she returned to Detroit seven years ago for family reasons, but also to be part of the changes that were happening to her hometown. "I knew this was a perfect opportunity to not only witness but also participate in the revitalization of a city," she says. "After living in Atlanta and New York, it was always after the revitalization happened. So I knew what can happen, what the endgame looks like. But I didn't know what the process looked like."
That's when LaFleur founded Afrotopia. "It was a hobby. It was always a thing I loved on the side. But when I came to Detroit, it felt like something very essential and could be quite useful as an actual tool," she says of Afrofuturism. "It's really about empowering black bodies to recontextualize their past — which then helps to reimagine their present and it also helps to imagine futures — because media doesn't really show black bodies in future spaces. Then we become invisible, and that invisibility is often reflected in our present space."
In the meantime, LaFleur became a substitute teacher — which is what she says led her to her decision to run for mayor. "When I started going into the charter schools, that's when I started learning about water shut-offs," she says. "And that is really when I started diving into social justice circles to get an understanding of the issues, and the complexities of these challenges and what work is already being done to help resolve these issues."
That's why LaFleur says addressing the water shut-offs are central to her platform, as well as a focus on Detroit's neighborhoods outside of downtown and Midtown. "A concern that I've heard many times from talking to people is when are they going to start investing in the rest of the city?" she says. "And I think it's really important to not only invest, but to speak to people within the neighborhoods and different communities to hear what they really want, because the government is a service to the people."
LaFleur's candidacy is a long shot — she's going against some major forces, with Mayor Mike Duggan running for re-election, and Coleman Young II, son of the former Mayor Coleman Young, also having entered the race. To get on the ballot, LaFleur has to submit a petition with 500 valid signatures by April 25. The primary is held on Aug. 8, and the general election is held on Nov. 7. "The voter turnout in the primary is very low, so we really have to do a strong push to get people inspired to go and vote," she says.
But she admits that just getting an opportunity to share a debate stage with Duggan or Young would be an accomplishment — a way to help set the narrative of the election. To get there will take unity — and the way to unify people, LaFleur says, is the arts. "Once we all come into the same room together — and arts and culture is that unifying force — then we can really make the changes that we want to see," she says.
LaFleur will host a meeting from 1 p.m.-6 p.m. on Saturday, April 22 at Inner State Gallery, 1410 Gratiot Ave., Detroit; 313-744-6505; innerstategallery.com; free. Learn more about LaFleur's campaign at ingridlafleur.com.