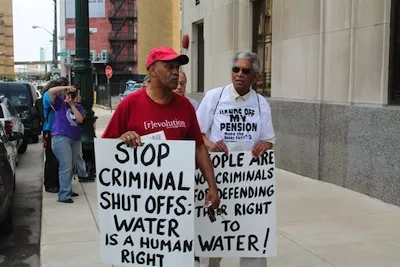 Water shutoffs for residential water and sewerage customers has been a vital and closely watched issue in Detroit. And despite some of the less responsible commenters who speak of residents drawing water from the river in pickle barrels, shutting off water is a very bad thing. Imagine for about 10 seconds the health and disease problems of a city where a significant percentage of people have no access to household running water; you'll then know why it's important to ensure everybody has water.
But the statistics show that there are more than 70,000 residential customers in Detroit who have trouble paying their water bills on time. The powers that be have expressed a desire to help them, but they seem to favor assistance plans that kick money in to help residents keep water on. While it's a step in the right direction, assistance plans don't have a strong track record. The residents often find themselves back where they started from, behind on bills and facing another shutoff.
There is another idea, however: An income-based plan would allow those people to pay what they can and keep their water on.
Philadelphia just passed an income-based plan earlier this month
to improve collections and help protect the welfare of low-income residents.
In Detroit, however, many of the people in charge of the water department say such an arrangement is impossible.
In
a special report from former MT reporter Curt Guyette
, who's now with the Michigan branch of the American Civil Liberties Union, "Darryl Latimer, the water department's deputy director, told this reporter that state law prohibits any kind of assistance plan that charges some customers less than the actual cost of service." The report also quoted DWSD attorney William Wolfson as saying he's in possession of two legal opinions stating that an affordability plan isn't allowed under current state law.
Activists and organizers are looking into the issue, however. Today they held a press conference and a meeting, featuring Detroit City Councilmember Raquel Castañeda-Lopez and economist Roger Colton. We should see the fruits of that powwow soon.