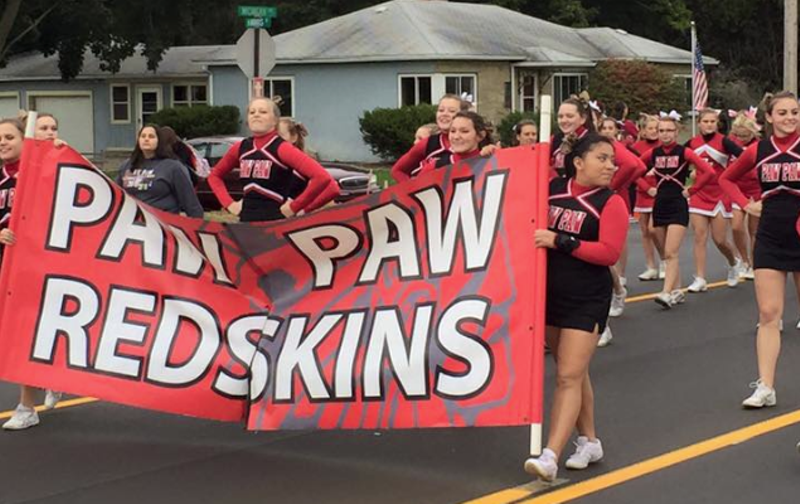 Ahead of what many consider to be a
likely 2018 gubernatorial bid
, Michigan Attorney General Bill Schuette has been seemingly at work trying to win over hearts and minds of Michiganians.
In recent months he has
charged top officials
in the aftermath of the Flint water crisis and issued an opinion that the
controversial Line 5 oil pipeline
be decommissioned. This is an apparent about-face following some decidedly unpopular moves in recent years, such as wasting nearly $2 million of taxpayer money in an
ultimately unsuccessful fight against same-sex marriage
and
his office approving the decision
that led to the Flint water crisis in the first place.
But just before the Fourth of July holiday, Schuette quietly issued an opinion that won't win over many on the progressive front, arguing that the Michigan education superintendent doesn't have the authority to withhold state funds from schools that use Native American mascots.
According to the opinion,
issued by Schuette on July 3
, there is "no express or implied legal authority for the Superintendent to withhold or cause the forfeiture of state school aid from school districts that use American Indian mascots or logos."
Schuette acknowledges that the state constitution says all schools "shall provide for the education of [their] pupils without discrimination as to religion, creed, race, color or national origin." In 2013, the Michigan Department of Civil Rights filed a complaint alleging discrimination by Michigan schools using Native American mascots or logos, and sought to prohibit these schools from receiving federal funding. However, the complaint
was dismissed
for lack of sufficient evidence that the use of the mascots created a "racially hostile environment."
Schuette also notes that in 2003, the State Board of Education adopted a resolution recommending that schools eliminate use of Native American mascots and logos, but that the resolution "simply recommends that schools discontinue use of American Indian mascots or logos; it does not require schools to do so."
The controversy is unlikely to subside any time soon. In December 2016, the Belding school board voted unanimously to discontinue its use of the "Redskins" name. Meanwhile, in February 2017, Paw Paw's school board voted to keep its "Redskins."