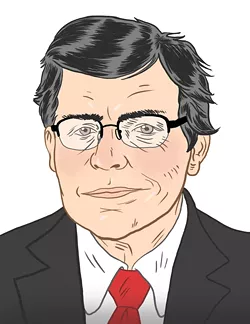 What baffles me most about Detroit is not the blight.
Not the corruption, not the stupidity of some of its politicians, or anything the emergency manager is doing.
No. What's most stunning to me is the way Detroit has rolled over, again and again, to let Mike Ilitch and his family use the city as their personal property and doormat.
In fact, we seem to have a habit of sticking it to the poor to enrich the Ilitches and destroy our heritage.
Last summer, I wrote about how city and state taxpayers would be coughing up more than $260 million to pay for more than half the cost of the new hockey arena and entertainment complex Ilitch's Olympia Entertainment insisted on.
Last month, we learned what the city's share will be in terms of a cut from the ticket revenue, food and drink and souvenir sales, parking, etc. etc. Currently, the city gets an estimated $7 million a year from these things at Joe Louis Arena.
That's the stadium we built for the hockey team in 1979. As far as I know, it works just fine. But the 84-year-old Ilitch wants a new and more expensive playpen now.
And so our city politicians, the ones who can't find money to hire more cops, and our state government, the ones who can't come up with the money to fix the roads, promptly rushed to subsidize "Mr. I."
The city cleared the way for Ilitch to develop on the land, and we're paying for nearly three-fifths of the building cost. Anyway — so what will the city get out of this new arena? With the Joe, there are different formulas for splitting each kind of revenue. But now they're making it much simpler for us. With the new arena, Detroit gets nothing.
That's right — taxpayers get nothing. This has been reported before, by me and by others, but you should hear it again and again. Detroit gets nothing. What's more, City Council, which fought against letting the state improve Belle Isle for us, happily rolled over and approved the deal.
Why have we decided that a guy who became a billionaire selling us cheap pizza is God? Yes, yes, I know the threat is that he might take his hockey team and go away.
However — is that real, or is that just a bluff? And how much would it hurt us if he did? The Lions' temporary move to Pontiac in 1975 didn't really seem to help them, or Pontiac.
What is Detroit getting for its money? Maybe, I'm told, a few hundred fairly low-paying new jobs at the new hockey arena. Maybe. Maybe some tax revenue from a new sports bar.
That's about it. To add insult and further injury, last week we learned the Ilitches' latest outrageous demand: After we taxpayers finish helping to build the Red Wings a new arena, they want Detroit to agree not to make any money from the old one — even though it's city property!
That's right. To quote a story in the Detroit Free Press, under a proposal now before City Council, "although the City of Detroit owns Joe Louis, it would be prohibited from holding any ticketed events in the arena" after the team departs.
Think about this. The billionaire Mike Ilitch is asking the city to agree that Detroit can't hold a concert, say, in a city-owned building the taxpayers paid for.
Council should, of course, tell his minions to go to hell.
But by the time you read these words, our elected leaders may well have already agreed. And — oh yes — they also have to agree to tear Joe Louis Arena down. Naturally, at taxpayer expense, once again. Why, the Michigan Strategic Fund has already approved $6 million for the dynamiting.
That pleased little Gabe Leland, by the way, the new City Council member who can't wait to be a Big Man.
"I'm ready to see it go," he gushed to a reporter. "I'm all about something new." Incidentally, when asked why the city didn't get anything from the new arena deal, Leland told another journalist, "It just didn't seem like they were willing to budge."
Yep, that's the quality of folks the city has negotiating on the taxpayers' behalf these days. The Joe is the historic site, by the way, where Stanley Cups were won and Ronald Reagan was nominated for president back in 1980.
The Ilitches don't care about that. The rest of us apparently care too little about our heritage as well. Remember Tiger Stadium? If you haven't seen Stealing Home, the heart-touching documentary that was the Freep Film Festival's most popular movie, you should. There was perhaps no more historically meaningful site in Detroit than Tiger Stadium.
But it wasn't good enough for Mike Ilitch, and after he got his new Comerica Park (yes, we heavily subsidized that too) he did everything he could to prevent the magnificent old ballpark from being used for anything. There was incredible behind-the- scenes pressure. Eventually, a compliant city tore it down.
Today, a wonderful and dedicated volunteer group, the Navin Field Grounds Crew, tends and weeds and mows the diamond, in memory of a million great moments.
They are sentimental fools, of course. As our leaders clearly believe and continue to demonstrate, salvation can only come if we all do our best to placate and enrich the Ilitch family. I suggest the Navin Field nuts pave over the diamond, park cars there and give the proceeds to Michigan's first pizza family.
They don't want to take the chance of not being right with God — I mean Mike — when they die, do they?
By the way, the hits just keep on coming. Estimates were that Detroit was supposedly owed more than $50 million from the Red Wings from cable TV revenue stemming from the Joe. The city bafflingly never enforced it.
Now Detroit wants and needs the money.
But what do you know? Looks like we won't be getting much of it. Last week, a new City Council report said the old lease was "largely unenforceable." Jones Day, the elite Washington, D.C., law firm, is proposing a settlement of $5.2 million instead.
Jones Day is, of course, where Emergency Manager Kevyn Orr worked before he (temporarily?) quit to run Detroit. His spokesman praised the settlement, saying it "allows the county to move forward." He didn't say if that meant over a cliff.
Who should lead Wayne County? Normally the battle for the office of executive of Wayne County has drawn little attention, but this time promises to be crucial.
Despite running the county into the ground, there is talk that incumbent Bob Ficano, incredibly, might run again.
But is there anybody who might actually halt the decline and keep the county out of emergency management? If there's a race to keep your eye on this year, this is it.