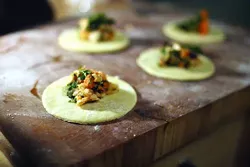 Illustrations by Andrew Spear
This article is a joint project of Metro Times and Orlando Weekly. Special thanks to our contributors Ashley Belanger, Matt Gorney, W. Kim Heron, Michael Jackman, Billy Manes, Erin Sullivan, Aimee Vitek and Jessica Bryce Young. And extra special thanks to Andrew Spear for his illustrations, including the cover portrait of
Eleanor Callahan.
Inspired by her image
Eleanor Callahan,
June 13, 1916- Feb. 28, 2012
Wife and muse of photographer
Harry Callahan
Alfred Stieglitz had Georgia O'Keefe. Man Ray had, at various times, Lee Miler and Kiki de Montparnasse. Jacques Henri Lartigue had three wives (again, at various times) and the Romanian model Renée Perle. Edward Weston had Charis Wilson.
By their muses, you will know them. And for Harry Callahan there was only his wife, Eleanor.
He immortalized her, and without her it's hard to imagine what his art could have been. Yes, there was his street photography, catching urban life in its hurly-burly velocity. There were pictures of weeds against snow like nature's calligraphy. He had his architectural studies and other modes.
But in the work of this master of light and shadow, the most frequent and only continuing and memorable presences are Eleanor and, to a lesser extent, their daughter Barbara. Eleanor was the soul force in Harry's oeuvre, the wellspring of humanity in his abstracted world.
Eleanor Knupp was born in Royal Oak, Mich., in 1916. At 17, she was a secretary at Chrysler, when she met 21-or-so year-old Harry Callahan, a clerk with the company, on a not-quite-blind date arranged at her suggestion after a mutual acquaintance showed her a picture. The two seemed to "click," she said, and they were married three years later.
Harry's interest in photography was sparked during those years by a movie camera belonging to one of her relatives. He joined Chrysler's photo club and his relationship with photography deepened. A talk given by Ansel Adams in 1941 seemed to have made a particular impression on him – it made him an artist, or at least it made him see himself as one. The Callahans moved to New York and then Chicago, and by 1946, Harry had progressed enough to be invited to teach at the Institute of Design in Chicago, hired by founder László Moholy-Nagy. In 1961, he moved to the Rhode Island School of Design where he founded the photography department and he retired from teaching in 1977, by now his works lauded and highly valued. He died in 1999.
A 2007 show of 125 photos of Eleanor included pictures taken as late as 1983, but the Eleanor pictures on which the Callahans' fame rests were mostly shot from 1947 to about 1960. Eleanor looking serene, a head and a hair emerging from gray Lake Michigan, eyes closed, her hair swirling down into the water like one liquid meeting another. Eleanor in a plain dark coat, wind now playing with her hair against the background of a light-toned apartment building and its geometrically arrayed windows. Eleanor nude, for all we can see, arms framing her face, hiding her hair with those arms, staring into the camera as if it has a heart. Eleanor as a silhouette and Eleanor blasted by light. Eleanor in portrait and Eleanor at a distance. Eleanor superimposed on nature. Eleanor as nature.
These photographs weren't splashed across popular magazines in fashion spreads. These weren't pinup material; even aside from the intent, Eleanor was shapely but fleshy, an ample woman no modeling agency would have given a second look. But the pictures of her made their mark. The online slide show accompanying her New York Times obituary cited Eleanor as "one of the most recognizable models in the history of 20th-century photography."
In an interview, Eleanor once said, "I never initiated any of the poses myself. ... Everything, photographically, was purely from Harry." And she could recite the detailed directions he could give, cross your legs, foot here, etc. Yet that "everything ... from Harry" still seems a little too self-effacing to stand scrutiny. Either the word "everything" or "photographically" is game to be contested.
The Los Angeles art dealer Stephen White, quoted in the Los Angeles Times obit, seems closer to a truth: "Eleanor went beyond being Harry's companion, wife and the mother of his child. She was an additional f-stop on his lens. Through her, he saw form and structure more clearly, both in nature and in the world. She was present in his photographs even when she wasn't in them. Eleanor was Harry Callahan's collaborator, for she rested inside his psyche."
Eleanor Callahan died on Feb. 28 at age 95 in Atlanta. One wonders how often she appears in the 100,000 negatives Harry left behind. —W. Kim Heron
Mr. Oreo
Sam J. Porcello, 1935-May 12, 2012
Created the creamy filling for
Oreo cookies
How do you eat an Oreo cookie? Everyone has a preference. Some dip their cookie in ice-cold milk; some twist off the top chocolate cookie and lick the vanilla cream filling. But when it came to eating Oreos, Sam J. Porcello, better known as "Mr. Oreo," was a purist. He preferred the sweet treat straight up — no milk or fancy finger work.
The American food scientist, who passed away on May 12 at 76, created the creamy filling found in Oreos during his 34-year career with Nabisco. He was the principal scientist for the snack brand, and according to an obituary written about him in Time magazine, he was the company's go-to guy for all things Oreo. Porcello crafted the filling for Double Stuf Oreos, advanced the concept of the chocolate-covered Oreo, and developed Nabisco's SnackWells line. He held five patents relating to Oreo.
A New Jersey native, Porcello started his career at candy manufacturer the Charms Company before being hired at Nabisco. He retired in 1993, and continued his volunteer service with international development nonprofit ACDI/VOCA, during which he assisted in the growth of a food company in Thailand.
When not mixing up snack science, Porcello enjoyed sailing. He was an active member of the Toms River, N.J., Seaport Society for more than three decades and served as a member and vessel examiner for the U.S. Coast Guard Auxiliary Flotilla. —Aimee Vitek
Measuring up
Dick Beals,
March 16, 1927- May 29, 2012
Voice actor didn't let his diminutive stature keep him from making a big impact
With few exceptions, voice actors are those unsung personalities we've heard throughout our lives and can instantly place — even if we can't name them. From the lilting falsetto of Cliff Edwards (Jiminy Cricket in Pinocchio) to the sonorous basso profundo of Thurl Ravenscroft (voice of Tony the Tiger and singer of "You're a Mean One, Mr. Grinch"), these unforgettable voices embed themselves in our consciousness, though we seldom put a face to them.
One of those voices belonged to Dick Beals, who died May 29 at a nursing home in Vista, Calif.. Due to a glandular problem, Beals never went through puberty, topping out at 4 feet and 7 inches in height and about 70 pounds. His whole adult life, he had the voicebox of a 10-year-old child, and — much like Walter Tetley, voice of Sherman on The Bullwinkle Show — he became a busy voice actor. Of course, Beals was much busier than Tetley, working on hundreds of commercials, performing for such animation studios as Hanna-Barbera, Warner Bros. and Disney, and voicing a host of animated characters, most notably Speedy Alka-Seltzer in scores of commercials spanning decades.
Richard Lee Beals was born in Detroit in 1927, into a family of Christian Scientists. Though he weighed in at 9-1/2 pounds at birth, by the time he was a year old, it became obvious he wasn't growing as quickly as an infant should. He would later write of his parents that, "They were beginning to realize they were faced with bringing up a child that would be small — really small — and they didn't have the slightest idea of how to handle it."
Though short in stature, the young Beals loved to perform. In 1930, as a kindergarten student, Beals became the mascot of the local high school football team in the suburb where he lived. By age 7, he was admitted to the varsity cheerleading squad.
One summer day, he and his mother were exiting Hudson's department store in downtown Detroit when she ran into an old high school chum who was surprised to learn that the apparent 4-year-old with her was actually 8. The man, a director at Detroit's busy Jam Handy Picture Studios, recognized the appeal of working with a child who looked like a toddler but could follow directions intelligently. Soon, Beals was a working actor, specializing in playing tykes for Jam Handy, Wilding Studios and Ross Roy.
Later, working his way through Michigan State University to study radio, he approached the station manager about becoming an on-air announcer. Instead, Beals was offered a gig playing the role of a 10-year-old boy on a radio show.
Word of Beals' talents got around quickly. Soon, he was on a bus from Lansing to Detroit's WXYZ, where a handful of big radio shows were being produced for broadcast throughout North America. After appearing once on a Quaker Oats commercial there — perched atop an old ammo box to reach the ceiling-mounted microphone — he landed work on Challenge of the Yukon, The Lone Ranger and The Green Hornet.
In 1952, 25-year-old Beals headed west to Hollywood, armed with lists of every radio producer he needed to pester for work. He started pounding the pavement. Every day, from 8 a.m. to 5 p.m., Beals knocked on doors at studios all over town, sneaking past guards, dodging secretaries and buttonholing producers in their offices. Soon, word got around about this stubborn, short, child-voiced performer from Detroit who was determined to hand his 3-by-5 card to everybody of importance in radio.
And it paid off. Radio directors, often frustrated by child actors, their fussbudget stage mothers, and the special requirements attendant upon working with them, were delighted to let the adult Beals fill the roles of children on now-forgotten but then-popular shows such as The Railroad Hour, Dr. Christian, Lux Radio Theater and Fibber McGee and Molly.
But what catapulted Beals into solid success as a voice actor was his role as Speedy Alka-Seltzer, the redheaded, blue-eyed, tablet-topped animated character that appeared in hundreds of TV commercials from 1954 to 1964. That high-pitched, cheerful, youthful, clearly enunciating voice singing "plop, plop, fizz, fizz" made Beals a mint. Even better, the gig opened the door to more animation voice work — especially important at a time when radio theater was dying off. The earnings allowed him to buy a lot high above the Los Angeles basin, with a view of the Hollywood Hills, custom built by a top contractor. The success also enabled Beals to pursue his love of flying, for which he used custom-made shoes to operate a plane's pedals. Flying to distant airports in California and calling in, Beals' voice sometimes compelled a somewhat concerned tower chief to ask the age of the pilot.
The animation voice work kept rolling in during the 1960s. Beals was the original voice of Gumby, and for several years the voice of Davey Hansen in Davey and Goliath (both shows created by Art Clokey, another Detroit native). He also voiced Yank, Doodle and Dan in Roger Ramjet, Buzzer Bell and Shrinking Violet in The Funny Company, and several child characters on The Flintstones.
But Beals began to find new challenges in the late 1960s. As the decade grew troubled in the United States, that clean-cut, middle-American, chipper, golly-gosh voice of his seemed to belong to another generation. For instance, when characters for Charles Schulz's Peanuts were being animated for television's Charlie Brown specials, the creator wanted the guileless voices of real children. Beals later said it was "the first sign of the impending change in the industry."
With the times changing, Beals put his energy into other pursuits. He went on to found an advertising agency, coach Little League, become a motivational speaker and even bought his own airplane. Throughout it all, he maintained his religious faith and believed that God would provide him with the proper guidance and open doors for him. He said, "I never did see me as small. God gave me a perfectly shaped, well-coordinated body. My approach has been to be as big as I had to be to achieve the goals I set for myself."
Among those goals, voice acting was never far away. Beals continued to do voice work into his 70s. Unlike the late '60s, when Beals' chirpy cadence seemed old hat, the ironic generation of the late 1980s and early 1990s found a new way to appreciate the archetypes of the 1950s — with a knowing wink. And Beals was there to capitalize on it. For instance, when they were casting for the animated Addams Family series in the early 1990s, almost 300 boys tried out for the role of N.J. Normanmeyer, but Beals got the part — at age 65.
—Michael Jackman
Fought the power
Gordon Hirabayashi,
April 23, 1918-2012
He was one of only three to defy the U.S. government's mass internment of Japanese-Americans during World War II
It's hard to imagine that it ever could have happened here, but in 1942, the United States government mass incarcerated more than 100,000 Japanese immigrants and Japanese-Americans simply for being Japanese.
It's even harder to imagine that, of that massive number of people, only three individuals had the courage to challenge the government's authority to do so. Gordon Hirabayashi was one of them.
Just a few months after Japan's attack on Pearl Harbor during World War II, President Franklin D. Roosevelt signed an executive order that gave the military the power to restrict the freedom of anyone of Japanese ancestry — first, the government imposed an 8 p.m. curfew on all Japanese living on the nation's West Coast, then later demanded that all West Coast residents of Japanese heritage — citizens or not — report to inland processing centers for internment. Roosevelt justified the order by saying that it was needed for national security and to protect the nation from espionage in a time of war.
Hirabayashi, then a 24-year-old student at the University of Washington in Seattle, saw the move for exactly what it was — an illegal and racially motivated measure in direct violation of the Fifth Amendment to the Constitution, which prohibits seizure of property and rights without due process of law. So, when the curfew was imposed, he refused to obey it; when Japanese were ordered to register at internment camps, he did not report and was eventually thrown in jail, where he spent months before being sent to a work camp in Tucson. Many Japanese did not support Hirabayashi and his two fellow protesters — they felt he was rocking the boat. Nevertheless, with the backing of the American Civil Liberties Union, Hirabayashi challenged the United States and took his case all the way to the U.S. Supreme Court — only to have it shot down.
After World War II ended, Hirabayashi returned to the University of Washington and earned master's and doctoral degrees in sociology. Not much happened with his case again until the 1980s, when a political science professor in California unearthed documents that showed that the U.S. government knew that the Japanese-Americans it had interned were not a threat to the nation. In 1986, a judge ruled that the government had withheld critical information from the court that could have led to the invalidation of the internment; the judge ruled federal misconduct and overturned Hirabayashi's convictions.
The Hirabayashi case was not just a victory for the man, but for all who endured internment during the 1940s. After the court ruled in Hirabayashi's favor, Congress awarded $1.2 billion in reparations to Japanese-Americans who had been forced to relocate.
It was a long-fought battle, but one that Hirabayashi always said he wished more people would identify with. "I never look at my case as just my own, or just as a Japanese-American case," he said. "It is an American case, with principles that affect the fundamental human rights of all Americans."
After all, he was quoted by The New York Times as saying when he was finally vindicated, "as fine a document as the Constitution is, it is nothing but a scrap of paper if citizens are not willing to defend it." —Erin Sullivan
Composing 2.0
William Duckworth,
Jan. 13, 1943-Sept. 13, 2012
American composer popularized
Postminimalist school
Reduction, addition, then repeat, sort of. Composer, professor and early Internet enthusiast William Duckworth came to prominence with the third wave of minimalist composers, a moment when musicians were moving beyond the perceived strictures of early minimalism. His works and actions marked a change of direction too. An indefatigable educator's demeanor and dissimilar proximity to comparable composers (he wasn't slugging it out in New York, but teaching at Pennsylvania's Bucknell University) may have kept him out of the internecine, proprietary beefs that plagued the various minimalist schools.
Duckworth is often cited as popularizing the postminimalist school, known for less recognizable modern idioms. His 24 Time Curve Preludes from 1977 and 1978 are luminescent piano works around a principal melody that jigger with the rhythm and tone centers via a series of formulas, including additive and reductive techniques, drone studies, the strong left hand of boogie-woogie piano and bluegrass.
Like his piano preludes, the choral work of his early 1980s Southern Harmony continued to disrobe the most famous models of minimalism. The shaped-note singing of Duckworth's churchgoing North Carolina youth, his studies at University of Illinois with microtonalist Ben Johnston, and Steve Reich's early, canon-influenced pieces Come Out and Piano Phase informed Southern Harmony's 20 unpredictable, all-vocal sections.
Modern-composition documentarist Alex Ross noted Postminimalists to be a plugged-in crowd. Duckworth and his wife, Nora Farrell, created 1997's Cathedral, a massive interactive Web-based work weaving together live and virtual elements. Their multiplex 2.0 composition continued with 2009's Sonic Babylon, an invisible world of site-specific performance ("sound gardens") accessible by mobile devices. Duckworth died at home of pancreatic cancer Sept. 13. —Matt Gorney
Let the airing of
grievances begin
Daniel O'Keefe,
Feb. 25, 1928-Aug. 29, 2012
Father of Seinfeld writer
invented Festivus
Daniel O'Keefe, who died Aug. 29 at 84, was an accomplished writer, editor and linguist. He spoke 40 different languages, from Gaelic to Swahili to Tagalog, and he toiled among the likes of Ray Bradbury as an editor at Reader's Digest. In 1983, he wrote a book, Stolen Lightning: The Social Theory of Magic, that was nominated for the National Book Critics Circle award. But he's not well-known for any of those scholarly pursuits. What he is best known for these days is creating a fake holiday made popular by a TV sitcom.
In the 1960s, O'Keefe made up a nonreligious holiday called Festivus in honor of his first date with wife, Deborah. He and his family celebrated it annually — it could fall on any day of the year, between October and May — with poems, a feast and an "airing of grievances" during which family members could air their complaints, no matter how minor, into a tape recorder.
O'Keefe had a son (also named Daniel) and his claim to fame is the stint he spent working for the hit TV show Seinfeld. The younger O'Keefe introduced his odd family tradition to the world on a 1997 episode in which George Costanza's father, Frank, explains that he created a new holiday — "a Festivus for the rest of us" — in reponse to the commercialization of Christmas. In the TV show, the characters celebrate with a feast, "feats of strength" and an undecorated "Festivus pole." While the show's Festivus was indeed based on the O'Keefe family tradition, the younger O'Keefe recalled in a book he later wrote about the history of the made-up holiday that there was no pole — the actual Festivus "symbols" were an alarm clock and a paper bag — and that during each Festivus celebration, his father posted a hand-drawn sign above the family's mantel that read "Fuck Fascism."
Since its TV debut, Festivus has become an insanely popular international holiday – during 2012, Google even created a special Festivus pole graphic that appeared on the site every time a user searched the term "festivus." And though it'll forever be associated with a mid-'90s TV show, it was not the fiction of a comedy writer – it was actually the creation of a brainiac dad who was once called by the New York Times' John Leonard "a better writer than Darwin." To the rest of us, though, he'll always be the creator of Festivus. —Aimee Vitek
Stars in his eyes
Tom Johnson, 1923-March 13, 2012
Amateur astronomer invented the Celestron telescope
With Curiosity ambling around Mars, there's public excitement about space exploration again, albeit not so charged as when President John F. Kennedy first declared we were going to the moon. It was during that 1960s era that one of the geniuses of our time, Tom Johnson, first became interested not just in the sky, but also in the accessibility of all its wonders. It started with a wish he granted to his two sons, who desperately wanted a telescope during a time when they were super trendy. But the commercially available ones were technically inferior to the sophisticated instruments used by serious astronomers. So, in his spare time, Johnson invented machines in his garage that allowed him to build and perfect the components that would become the country's most popular and, to date, best-selling telescope of all time: the Celestron 8.
After the Celestron was developed, amateur astronomers were suddenly able to make landmark discoveries. Since then, NASA regularly fields opinions and data from amateurs to populate their database of near-Earth objects (NEOs). Hell, this year, an amateur astronomer discovered Tatooine — a planet that matches the description of Luke Skywalker's home planet. The design that Johnson perfected in 1969 is still used in the precise instruments Celestron mass produces today, only now they also include an integrated GPS, so that we no longer have to rely on antiquated strategies like star hopping or setting circles to find the objects we seek. Johnson's work made it possible for starry-eyed kids of all ages to explore space from just about any dark, elevated place, encouraging the imaginations of generations.
—Ashley Belanger
All dogs go to heaven
Lucky Diamond, 1997-June 5, 2012
Little dog made a big impact for animal-welfare causes
It may seem out of place to include a dog in this list of movers and shakers who shaped the world in which we live. But Lucky Diamond — probably best known for holding the Guinness Book world record for being the dog photographed with the most celebrities — was more than just a fluffy purse accessory. In some ways, she was really more than just a dog — in her own way, she was also an activist.
In 1999, entrepreneur and philanthropist Wendy Diamond rescued the little Maltese when she adopted her from an acquaintance who was about to drop the dog off at an animal shelter. That decision changed Diamond's life — she was so taken by her new furry companion, and so shocked to learn that millions of pets are dumped and euthanized at animal shelters in the United States each year, that she decided to dedicate her life to working on behalf of animals. She founded Animal Fair Media, a company that focuses on animal welfare and helps raise money for worthy animal-related causes. With Lucky by her side and as her spokesdog, Diamond launched a crusade to raise awareness about shelter animals, promote animal rescue, and draw attention to endangered species around the world.
Diamond couldn't have done it alone — her little white dog was the one who drew the attention much of the time. Lucky hosted fundraisers, attended charity events, served as chair-dog for good causes and was the inspiration for the White House Pet Correspondents' Benefit to raise money for animal rescue. Lucky quickly gained a reputation as a charming little mascot, and as a result, she mingled with some important people and in her short life she was photographed with more than 300 celebs, including Betty White, Kanye West, Kim Kardashian and Bill Clinton. She wiggled her way into their hearts — and perhaps more importantly, into their pockets, encouraging them to donate to animal-related causes and charities. She was so successful in her career that the Humane Society of New York even named a wing after her.
Sadly, though, dogs don't live long enough, and at 15 years old, Lucky was diagnosed with cancer. The little dog with the big heart passed away on June 5, 2012, but her legacy lives on. Diamond wrote on her website that she donated Lucky's body to cancer research because she wanted to "increase awareness for animal cancer." In Lucky's honor, she says, she also plans to continue to help the more than 5 million animals that are euthanized in shelters each year.
So, no, Lucky Diamond wasn't a human, but she made the world a better place for animals — and for that, she's earned her place on this list.
—Erin Sullivan
Pride and prejudice
Dr. Richard Isay,
Dec. 13, 1934-June 28, 2012
Revolutionary psychiatrist and
gay-rights champion
Before the pray-away-the-gay so-called "therapy" championed by such groups as Exodus International, a real war was waged in the psychiatric community over the place of homosexuality in mental health academia. Dr. Richard Isay, to some extent, fought for both sides, as the times dictated. It wasn't his fault — a sentiment of forgiveness that would become key to his legacy — because Dr. Isay studied at a time when openly gay students were forbidden from studying to become psychoanalysts at schools with accreditation from the American Psychoanalytic Association. Why? Because gays were viewed as stunted individuals, lower life forms incapable of providing therapy to the unwell. Dr. Isay himself was allegedly "cured" of his homosexuality after a decade of therapy, an act that landed him with a wife and two children in the 1970s. He did finally come out to his wife in 1980 and subsequently led a very vocal crusade of individual acceptance in the mental health community. He challenged the American Psychoanalytical Association with the help of the American Civil Liberties Union, and, by 1997, the association went as far as publicly supporting gay marriage.
In what can only be seen as poetic justice, Dr. Isay married his partner of two decades, artist Gordon Harrell, last year in his son's living room. He died from cancer in June at the age of 77, leaving humanity further along than he found it. —Billy Manes
Comfort, food
Marion Cunningham,
Feb. 7, 1922-July 11, 2012
Cookbook writer was determined to teach Americans to cook
"I wish there were a national law that made everyone cook steadily for two months. Then, if they don't like it, they can quit." Marion Cunningham, the cookbook writer who uttered those exasperated words at the age of 77, spent two decades trying to coax Americans to grow up and learn to take care of themselves. From the first cooking classes she taught to her last published cookbook, she aimed straight for people afraid of the kitchen, like a student she once told Gourmet's Ruth Reichl about who thought a tossed salad involved throwing lettuce into a bowl from across the room.
She understood fear, because she had plenty of her own.
Cunningham may have looked like a sweet little old white-haired lady, but she was nobody's softy. A woman of sharp knives and sharper opinions, she overcame modest West Coast beginnings, alcoholism and severe agoraphobia to become one of the most celebrated food personalities of the 20th century. Some called her the "anti-Julia Child," for the way she steadfastly championed American cuisine, bucking the fine-dining trend for French; Cook's Illustrated editor Christopher Kimball referred to her as "the Katharine Hepburn of cooking" — presumably for her height and patrician good looks, but perhaps also for her steely determination.
Though she knew everybody who mattered (James Beard, Jeremiah Tower, Judith Jones, Jeffrey Steingarten) and even gave a generation of Bay Area chefs their starts — she took her friends to Chez Panisse before anyone had heard of Alice Waters — she was no lover of fancy food. Her focus from beginning to end was on simple home cooking; her prosaic yeast-raised waffles are her most famous recipe, and her favorite dish was, famously, iceberg lettuce. Anyone who's mastered a simple roast chicken, a drop biscuit or even the art of flipping pancakes owes her a debt of gratitude.
Cunningham died July 11 of complications of Alzheimer's disease.
—Jessica Bryce Young
Sam Carthorne Rivers
Sept. 25, 1923-Dec. 26, 2011
Composer made a home for free jazz
The meaning of pop music? To teach the audience not to think about
anything for more than three minutes.
Fair to pop or not, the radio cut was the perfect foil for Sam Carthorne Rivers when he tried to explain himself, and how he wanted the world to hear him.
Rivers, to be precise, died at the tail end of 2011, Dec. 26, too late for proper eulogizing in projects like this. If you'd ever heard him, chances are you'd be sympathetic about bending a rule for a man who bent more than a few rules himself, leaving the world better for it. (What would improvisation be without bending rules?)
Rivers had a wealth of musical experience before he began recording in his 40s. He'd been raised in a family steeped, professionally and otherwise, in spirituals and gospel. He'd discovered jazz saxophone as a teen, studied music at Boston University and Boston Conservatory (including with composer Alan Hovhaness); he'd played with such bluesmen as Jimmy Witherspoon and T-Bone Walker, and he experimented playing free jazz alongside abstract paintings. His Blue Note label work included one tune that's become something of a standard, "Beatrice," a soft-wind-on-the-water sort of ballad, written for his wife, obviously with love. Meanwhile, in some of his most interesting music, he was moving away from tunes entirely.
just played. Perhaps there'd be a cataclysmic explosion at the start from which some theme and direction would emerge — some musical game that mixed tag, follow the leader, hide and seek, and peek-a-boo. Trios could give way to duos to solos on seeming whims. Or maybe it would start with a solo and move back to the explosion. There was a sense that anything could happen.
Love Goes to Buildings on Fire by Will Hermes, Rivers is rightly depicted — along with figures from Patti Smith to Willie Colon to Philip Glass — as a force validating the subtitle: Five Years in New York That Changed Music Forever. And Rivers' influence wasn't just in jazz. You'd be hard-pressed to find a musician less like Rivers than Meredith Monk (ice to his fire), and yet, she credits him in Hermes' book as a liberating influence: "He made me feel I wasn't crazy."
His friend Matt Gorney recalled the breadth and depth of his impact in the Orlando Weekly:
<span style="font-size:1em; >Sometimes Rivers finished shows with a reference to the folks who weren" t="" there.="" "tell="" them="" what="" they="" missed,"="" he'd="" say.<="" span=""></span></p> <p><span style="font-size:1em; >We" re="" still="" telling="" them,="" sam.="" —<b="">W. Kim Heron</span></p> <p></p>