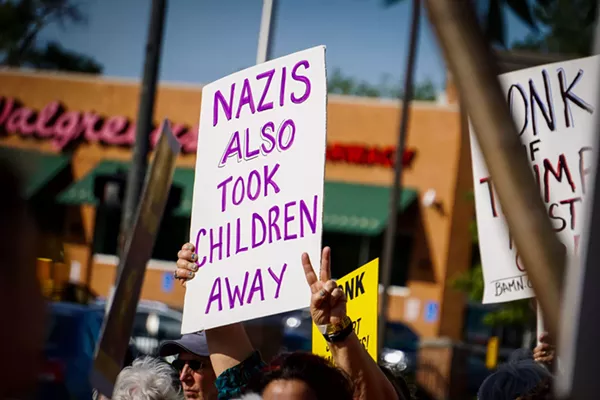 Two Michigan social services agencies are stepping up to help immigrant kids who've been ripped from their parents. The groups are also criticizing the Trump administration policy that has led to the separation of nearly 2,000 families in six weeks.
According to the
Detroit Free Press
, dozens of immigrant children — among them babies and toddlers who "can only cry about what's happening" — are now in the care of a refugee center run by Bethany Christian Services in Grand Rapids. The agency contracts with the government and is licensed to resettle refugees. It has reportedly admitted
27 children into its transitional foster care program since the zero-tolerance policy
was implemented last month. Separately, Samaritas, a Michigan non-profit that offers foster care services, has applied for permission to receive up to 60 more refugee children in response to the new policy.
At least one of the centers appears to be accepting donations of things like diapers and Spanish language books. Both are accepting applications from would-be foster parents. Bethany Christian Services' refugee youth support page is
here
. Samaritas' foster parent portal is
here
.
The hope is that the immigrant children will need foster parents only for a short while, but under the new policy, it's not clear if detained kids will be reunited with their parents after they've faced prosecution for trying to enter the country illegally.
"Nobody really knows how it's going to work out," Michelle Haskell, a representative with Samaritas, told the
Free Press.
Adults who are charged with improper entry are jailed and separated from their kids under the zero-tolerance policy announced by Jeff Sessions last month. If it's their first infraction, the crime is a misdemeanor. Previously, parents and kids had been permitted to stay together while they awaited asylum or deportation.
Both Michigan agencies helping the refugee kids are opposed to what's going on.
"No one benefits from creating more orphans," a
statement
on the Bethany Christian Services website reads.
"We are advocating that children are allowed to stay with their families ... we believe it's a biblical response," the group's CEO, Chris Palusky, says in a video posted to the site.
Dona Abbot, director of Bethany Christian Services' refugee and immigrant program, pointed out the circumstances that cause people to seek refuge in the United States in the first place.
"They're fleeing incredible violence in Honduras, El Salvador, and Guatemala, so these refuge families make that flight ... keeping their children safe, and then when the come to the United States, just when the family needs to be together, they're being separated," said Abbot.
The other group, Samaritas, told the
Free Press
its goal is "keeping children with their parents."
"Over the last several years, we've dramatically reduced the number of children we've separated from parents and ironically that has been at the urging of the federal government," president Vickie Thompson-Sandy told the paper. "And so it is somewhat ironic that we are responding to this crisis that is potentially being exacerbated because of the position of the federal government on this issue."
There's no evidence that the Trump administration's plan to prosecute everyone who crosses the border illegally will curb illegal immigration. A judicial reform group's analysis of a past attempt to use prosecutions to stem immigration showed that
prosecutions and incarceration do not deter migration
. The group analyzed the results of Operation Streamline, which was implemented under George W. Bush.
Stay on top of Detroit news and views. Sign up for our weekly issue newsletter delivered each Wednesday.