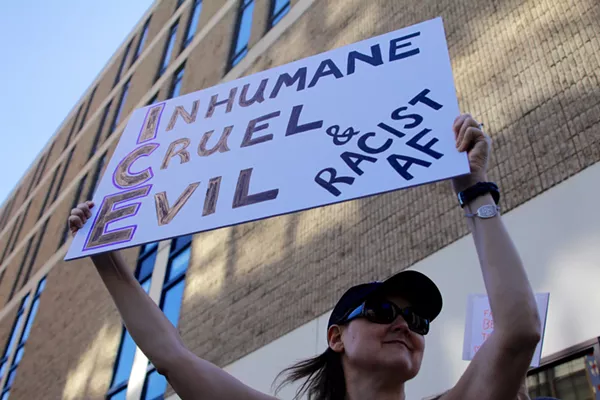 On Wednesday, unsealed federal indictments in Detroit revealed that the Department of Homeland Security established a fake university in Farmington Hills to lure foreign students that wished to remain in the U.S. using phony documents.
In 2015, the undercover operation "Paper Chase" created the fictional University of Farmington as an elaborate ruse to catch "recruiters" targeting foreign nationals in a scheme to secure fake F-1 Visa documents, the
Detroit News reports
.
The university, managed by undercover Homeland Security agents, had no staff, no students, and no classes to attend. The Dept. of Homeland Security established the fictional university in an office building located at 30500 Northwestern Hwy., north of Inkster Road in Farmington Hills.
To attract potential recruiters and students, agents created a website and managed social media accounts (which have since been removed) for the University of Farmington which claimed that it was a "nationally accredited business and STEM institution located in metro Detroit."
Under normal circumstances, the F-1 Visa allows international students accepted to Student and Exchange Visitor Program (SEVP) approved schools the opportunity to study in the United States. Once accepted, the school or university registers the student in Student and Exchange Visitor System (SEVIS) and sends the applicant a Form I-20 form — a document that proves the full-time student is authorized to be in the United States.
In the case of the University of Farmington, recruiters helped foreign students fraudulently obtain documents including transcripts and create false school records.
The indictment states:
"... the university was being used by foreign citizens as a 'pay to stay' scheme which allowed these individuals to stay in the United States as a result of foreign citizens falsely asserting that they were enrolled as full-time students in an approved educational program and that they were making normal progress toward completion of the course of study."
According to the indictment, students knew that the school was illegal and would not be attending classes or pursuing a degree.
Eight recruiters were charged for participating in a conspiracy for helping as many as 600 foreign nationals remain in the U.S. illegally. The recruiters allegedly received as much as $250,000 in payment for recruiting fake students.
On Wednesday, dozens of students were also arrested as part of a nationwide sweep. The fake students were arrested for immigration violations and face possible deportation.
Most of the students and recruiters charged in the sting operation were originally from India, prosecutors say.
On Wednesday, U.S. Attorney Matthew Schneider issued a statement regarding the indictment:
"We are all aware that international students can be a valuable asset to our country, but as this case shows, the well-intended international student visa program can also be exploited and abused."
Stay on top of Detroit news and views. Sign up for our weekly issue newsletter delivered each Wednesday.