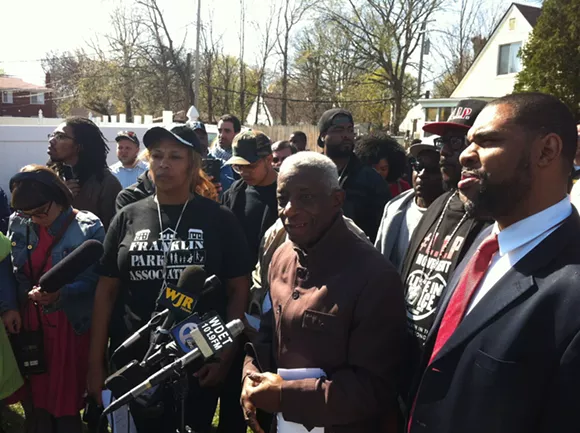 The father of a 20-year-old Detroit man who was killed by a federal agent Monday said his son was unarmed when he was fatally shot inside their home on Detroit's west side.
"There was no need to come in the way they did," said Kevin Kellom, 51, of the incident involving an Immigration and Customs Enforcement (ICE) officer and his son, Terrance Kellom, who was shot dead when a multi-agency federal task force executed a search warrant on his home in the 9500 block of Evergreen.
The Detroit Fugitive Apprehension Team task force, which executed the warrant Monday, includes members of the U.S. Marshals Service, Detroit Police Department, Wayne County Sheriff's Office, ICE, and the Oakland County Sheriff's Office.
Officers entered the home in broad daylight to arrest Kellom, an armed robbery suspect with a felony firearms warrant and a parole absconder, said Shanelle Williams, spokesperson for the Detroit Police Department. According to the Michigan Department of Corrections file on Kellom, he fled last August from probation he received for a 2013 concealed weapons offense.
Kevin Kellom offered his side of the story to reporters on Tuesday. His account directly conflicts with statements from the Detroit Police Department, which on Tuesday said his son brandished a hammer and approached the ICE agent before he was killed.
"My son died with clenched fists," the father said during a press conference at the corner of W. Chicago and Evergreen on Tuesday, and he didn't have a hammer. To the sounds of car horns blaring on a jam-packed street, a group of 150-200 gathered outside Kellom's home Tuesday afternoon to call attention to the incident.
What's more, Kevin Kellom said the shooting happened around 1:40 p.m. Monday, however the search warrant left at his home was signed at 4:35 p.m.
"They made that search warrant after they assassinated my son," Kellom asserted.
The Wayne County Prosecutor's Office, says the warrant for Terrance Kellom's arrest for armed robbery was signed on April 2. Kellom allegedly robbed a pizza delivery man on March 31 using a rifle, the prosecutor's office said Tuesday.
"We had evidence beyond a reasonable doubt to charge Kellom," said spokeswoman Maria Miller. "After the warrant was signed by a judge the police were authorized to arrest him and take him before a magistrate to be arraigned."
The police must have exigent circumstances to arrest a suspect in a home, she said. But, she added, the incident that lead police to his father's house and the circumstances leading to the officers entering the home is currently under investigation.
A Detroit police spokesperson couldn't say how many agents were at the scene of the incident Monday; law enforcement officials at the press conference Tuesday estimated six-to-eight officers executed the search warrant, with more arriving after the shooting occurred.
According to DPD spokeswoman Williams, Terrance Kellom was "armed with a hammer" and advanced toward the ICE agent before he was shot. The agent, a seven-year veteran of the agency, was backing away as he shot Kellom — as many as 10 times, neighbors and family members said — dead. Kellom was pronounced dead at a hospital shortly after the incident.
ICE has not released the name of the officer involved in the incident. A spokesman said Tuesday he has "no history of adverse personnel actions."
"Consistent with the agency's Use of Force Policy, the officer has been placed on administrative leave," said ICE spokesman Khaalid Walls, in a statement. "The officer is a lifelong Detroiter and former decorated 12-year veteran of the Detroit Police Department."
An autopsy showed Kellom died of multiple gunshot wounds, the Wayne County Medical Examiner's Office said Tuesday. Spokesman Ryan Bridges said the examiner's office ruled Kellom's death a homicide, but declined to say how many gunshots entered his body, or where, citing policy.
The incident took place on the same day protesters clashed with police in Baltimore — while others marched peacefully — in response to the death of Freddie Gray, a 25-year-old unarmed black male who died in police custody for
reasons that amount to a mystery
.
Ron Scott, spokesperson for the Detroit Coalition Against Police Brutality, described the death of Kellom as despicable.
"In light of national incidents, we find this latest shooting appalling, distressing, and despicable that another young Black man has to be killed in his house in front of his family with multiple gunshots," said Scott, in a statement Tuesday.
Meanwhile, U.S. Attorney Barbara McQuade said her office was monitoring the investigation into the incident.
"Yesterday's shooting was a tragedy and we offer our deep condolences to the family," said McQuade, in a statement Tuesday. "Police work sometimes requires use of deadly force, but officers may use only as much force as is reasonable under the circumstances. In a situation like this, it is important to protect the rights of both the deceased and the officer. Therefore, we are closely monitoring the investigation."
Following the press conference Tuesday, a large group of demonstrators marched down W. Chicago.
Two decades ago, a cousin of Kellom, Roderick Carrington, was
shot dead by a Detroit police officer under questionable circumstances
, Scott said Tuesday.
"This family has had tragedy in two decades," he said.
Updated Wed. April 28, 2015, 8:45 a.m.: This story has since been updated to clarify statements from Wayne County Prosecutor's Office spokeswoman Maria Miller.